New £5,000 campaign to 'save' Pinewoods trees in Harrogate
A Harrogate residents group is launching a new campaign to raise £5,000 to help protect part of The Pinewoods from possible development by one of the town's top companies.
Friday, 27th December 2019, 9:43 am
Updated
Friday, 27th December 2019, 3:23 pm
The funds raised via Crowd Justice will be used by Pinewoods Conservation Group to retain legal support during the planning phase for leading brand Harrogate Spring Water's long-held expansion plans in Rotary Wood, which members of PCG claim has doubled in size, and any subsequent land disposal processes by Harrogate Borough Council.
Within hours of launching the campaign, the public had already donated six per cent of the target.
Harrogate Spring Water has always prided itself not only on flying the flag for Harrogate but also its high environmental standards.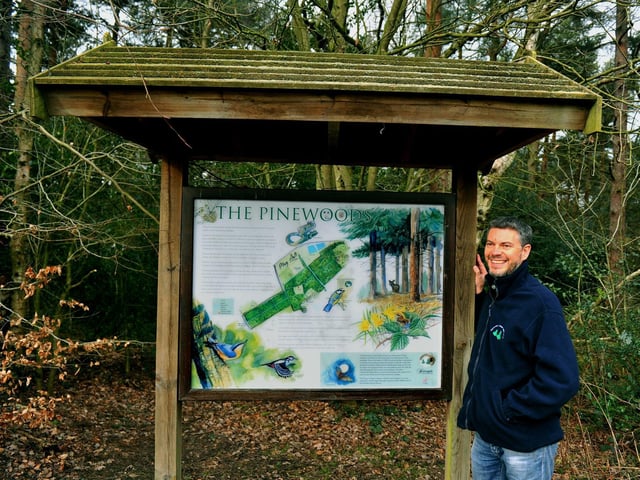 Protecting trees in Harrogate - Neil Hind, chair of Pinewoods Conservation Group.
In November the firm held a public consultation event about the latest version of its plans at its state-of-the-art plant on Harlow Moor Road.
At the time James Cain, managing director of Harrogate Spring Water - which employs 110 people - said the award-winning company remained good neighbours and would replace any greenery lost in the building work."
But, in a message entitled "An Urgent Message from Pinewoods Conservation Group", Pinewoods Conservation Group says: "We remain concerned at the plans to allow Harrogate Spring Water to double the size of their current plant that is likely to see the loss of around four acres of woodland.
"We expect full planning to come back to Harrogate Council early in the New Year.
"The Council will then need to address the loss of public space and the "Asset of Community Value" status that is likely to result in a public consultation.
"Once green space is lost it will be lost forever so it is vital that at this time of a climate emergency that any environmental loss is challenged.
"We know many of our members and visitors helped plant the hundreds of trees within this area so we encourage a donation no matter how small.
"If everybody who receives this email gave £5 then we would be well on our way to hitting our target.
"If you are able to donate more then really appreciated.
"If you are not able to donate then please visit the site anyway and share on Facebook and other social media to let others know. "
Members of the public who wish to donate to the appeal urged to go online to www.crowdjustice.com/case/pinewoods
In November, Harrogate Spring Water's James Cain said the firm always prided itself on being "good neighbours.
Mr Cain said: "Whatever we take out will be put back and the end result for the Pinewoods area will be better than at the moment. We're local people and give back to the local community.
"We pride ourselves on being good neighbours and we support the Pinewoods. But we are operating in a competitive era."
The company first obtained outline planning permission for the expansion of its bottling facility in 2017.