Harrogate's Pinewoods group 'receives messages of support from Australia' over trees
A Harrogate group campaigning to save trees at the Pinewoods says it is has now gone international - and is now receiving messages of support from as far away as fire-hit Australia.
Monday, 13th January 2020, 2:49 pm
Updated
Tuesday, 14th January 2020, 4:27 pm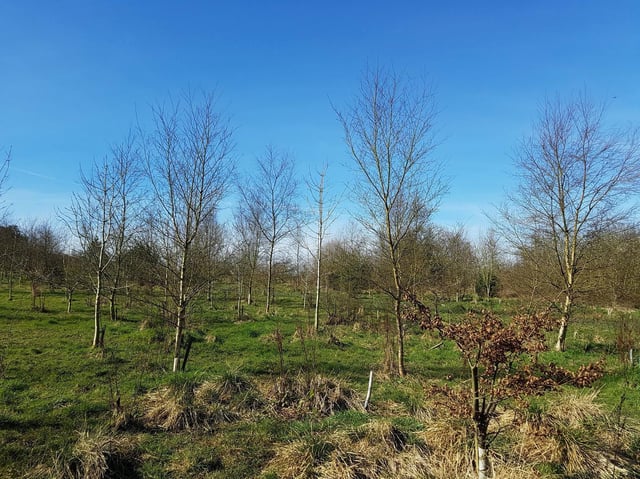 Controversial plans - The trees at 'Rotary Wood' at the Pinewoods in Harrogate.
Pinewoods Conservation Group's concerns over a controversial planned expansion in the area by Harrogate Spring Water have spread to the extent that a journalist from The Guardian discussed the situation with them.
The national newspaper's story on this important Harrogate company's revised plans for its bottling plant went online last Friday before appearing in the printed version of Saturday's newspaper which went on sale in newsagents across the UK.
Pinewoods Conservation Group said: "The Guardian story has been shared by readers over 100 times already with Peer Jenny Jones, Baroness Jones of Moulsecoomb, sitting in the House of Lords also sharing the story online to her 31,000+ followers.
"This has increased the profile of this threat not only nationally but also international with messages of support from as far as Australia, who are more aware than most of the climate emergency threat."
The UK's leading water brand, Harrogate Spring Water prides itself on its spa water plant being a global showcase for environmental efficiency and ethical standards.
But, it says, its own global success and the competitive nature of the market for bottled water make expansion absolutely essential.
The company first obtained outline planning permission for the expansion of its bottling facility in 2017.
In November last year, the firm held a public consultation to discuss the latest version of its plans at its state-of-the-art plant on Harlow Moor Road which would affect the four acres of the Pinewoods known as Rotary Wood.
At that time its managing director James Cain OBE told the Harrogate Advertiser: "Whatever we take out will be put back and the end result for the Pinewoods area will be better than at the moment. We're local people and give back to the local community.
"Mr Cain said: "We pride ourselves on being good neighbours and we support the Pinewoods. But we are operating in a competitive era."
But PCG said the new plans to expand Harrogate Spring Water's plant on Harlow Moor Road showed an increase in size of the building of over 40%, from 4,800 sq m to 6,800 sq.
The PCG says it is now half way into its 30-day Crowd Justice fundraising campaign to pay for legal advice as it seeks to monitor and challenge Harrogate Spring Water's plans.
So far, it has raised just more than 50% of its £5, 000 target which appears online under the heading "Savings The Pinewoods from Development."
Last week, a Harrogate Borough Council confirmed that Harrogate Spring Water's plans would now be referred to the full planning committe.
The council spokesperson said: "As the latest application is viewed as being significant it will be reported to the planning committee for determination at a date yet to be finalised."
The next stages in Harrogate Spring Water's planning application are expected to be:
Submission of a full planning application
Harrogate Council to undertake a full public consultation on the loss of public space
Consultation on the loss of a "Community Asset".