Morrisons: Supermarket cuts prices of over 150 products including bread and beer amid cost of living crisis
Morrisons has cut the prices of more than 150 products as the cost of living continues to soar.
Watch more of our videos on Shots! 
and live on Freeview channel 276
Visit Shots! now
The supermarket has reduced a number of items including bread, chips and meat, as well as beer, wines and spirits. Morrisons said its new prices will be held for at least eight weeks and are available in all its 499 supermarkets across the UK.
Among the price cuts, Hovis Granary Medium 800g bread has been reduced by 14%, going from £2.15 to £1.85. Morrisons Best Chunky Chips 1.5kg have also seen a reduction of 10%, going from £3.99 to £3.59.
Rachel Eyre, chief customer and marketing officer at Morrisons, said: "We're committed to providing our customers with great quality products at affordable prices and this week we have announced our seventh wave of price cuts during 2023.
"These prices will now be held for at least eight weeks so our customers can plan their grocery budgets and see a positive difference in their pockets."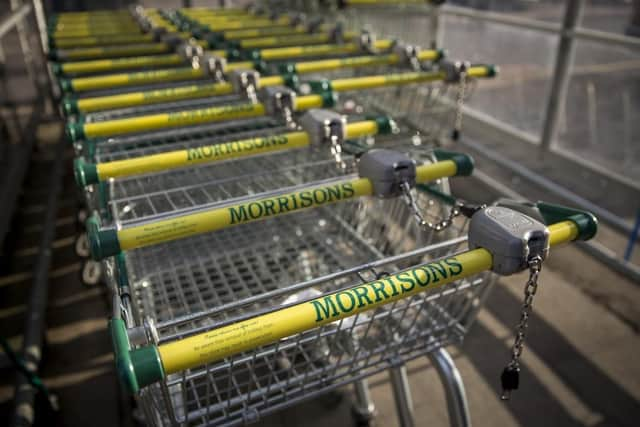 Morrisons: Examples of reduced items
Morrisons Garlic Bread Slices 10pk 260g - Was: £1.40, Now: £1.29
Hovis Granary Medium 800g - Was: £2.15, Now: £1.85
Warburtons 5 Plain Bagels - Was: £1.85, Now: £1.65
Morrisons Best Extra Fruity Hot Cross Buns 4pk - Was: £1.59, Now: £1.29
Morrisons The Best Chunky Chips 1.5kg - Was: £3.99, Now: £3.59
Morrisons Steak Bake 2pk - Was: £1.49, Now: £1.25
Morrisons Smoked Lardons 200g - Was: £2.69, Now: £2.39
Morrisons The Best Cumberland Sausages 540g - Was: £2.50, Now: £2.39
Morrisons Prawn Cocktail 170g - Was: £2.25, Now: £2
Morrisons The Best Belgian Milk Cookies 4pk - Was: £1.75, Now: £1.49
McVitie's Jamaica Ginger Cake - Was: £1.49, Now: £1.25
The Delicious Company Strawberry And Cream Eclairs 2pk - Was: £2.25, Now: £2
Robinsons Fruit Shoot Apple & Blackcurrant 4 X 200ml - Was: £2, Now: £1.50
Peroni Nastro Azzurro 4 X 330ml (5%) - Was: £6.50, Now: £6
Aperol 70cl (11%) - Was: £17, Now: £13
Campo Viejo Gran Reserva Rioja 75cl - Was: £16, Now: £14