Cost of living: Couple quit rat race for a commune - where they share everything from toilets to childcare
The pair now live in a wood cabin on 44 acres of land alongside seven other eco-conscious families.
Watch more of our videos on Shots! 
and live on Freeview channel 276
Visit Shots! now
A couple quit the rat race to join a commune - where they grow their own food and their neighbours help raise their baby. Guy Erlacher-Downing, 27, and his wife Viki, 29, bonded over their love of the great outdoors when they met in 2016.
And the couple soon grew tired of city living, so they chose to quit their jobs and relocate to a sustainable living community just outside of Totnes, Devon. The pair now live in a wood cabin on 44 acres of land alongside seven other eco-conscious families.
They grow their own food using a communal polytunnel, with all the harvest shared between members. Residents also divide up the chores that need doing.
Viki said: "We are working towards a realistic goal of growing a healthy majority of our fresh food. A normal day at the moment might involve a little weeding and planting, then any weekly chores like collecting water or emptying the toilet."
The community has seasonal tasks like gathering wood, and there is a rota for weekly tasks like taking out the bins and cleaning communal areas. Viki said: "Guy and I have a range of things we do on a regular basis, like planting and tending to our garden, pumping drinking water by hand from the communal borehole, collecting rain water for washing up and emptying our personal compost toilet."
The couple currently work three days a week with the rest of their time spent working on the site. Guy is now working as a charity coordinator, having previously been a waiter.
And Viki is an applied social science researcher - writing a PhD on climate change and mental health. They are also raising their little boy, Leon, six months, on the land and the tot is looked after by the whole community - spending lots of time outside.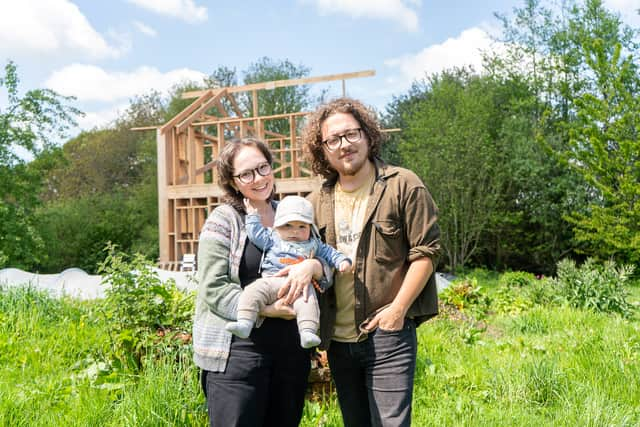 The plot - called Landmatters Permaculture Co-op – is an idyllic setting, lying on ancient woodland and hedgerows. Viki, who moved to the UK from Austria in 2012, said: "We decided to take the plunge in March 2020 during the first lockdown.
"We were living in Brighton but kept brainstorming on how we could live closer to nature." The couple spent time volunteering with other families already living down in the cooperative before they were offered a trial membership within the community in April of last year.
With the help of their community members, they are building their own house from timber frame made form locally sourced wood. They estimate the total cost of the building will come to £30,000, which they are paying off from savings.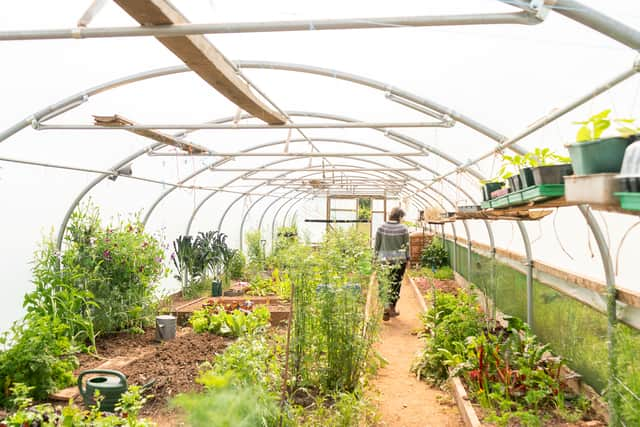 Viki said: "We have been super busy on the project, but it is weirdly relaxing at the same time. And it's been a joy to bring up Leon in this magical place.
"Living in a community meant that we had a lot of support from our neighbours in those first months when we became parents. A big reason we chose this lifestyle was because of our environmentalist beliefs.
"But we also believe it's better for us mentally to be out here closer to nature." The couple say they have no regrets about escaping the rat race.
Viki added: "We both work jobs outside of the co-op and spend time visiting family and friends who all live in towns and cities. But living full-time in a 'normal' flat would feel quite lonely, limiting and disconnected from nature.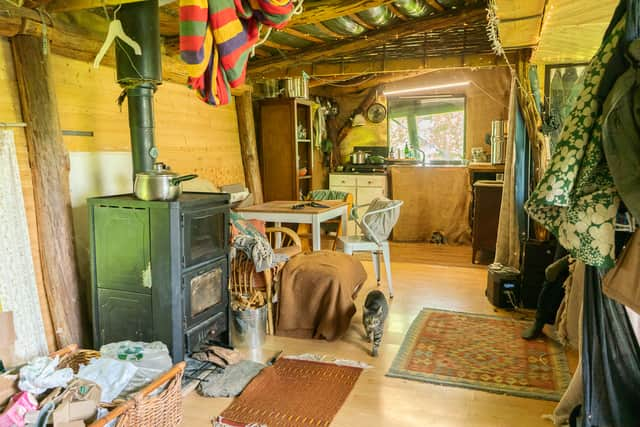 "We can't see ourselves going back to are old life unless we absolutely had to." Despite the green living, Viki, Guy, and little Leon still find time to chill in much the same way as any other family.
"We might live off-grid but we still enjoy watching films and series so we might finish the day by streaming an episode or two of whatever we are watching at that moment."