Storm Babet: Network Rail issues advice for passengers travelling in North and East Yorkshire
Network Rail is encouraging passengers in North and East Yorkshire to check before they travel as Storm Babet is expected to bring severe weather.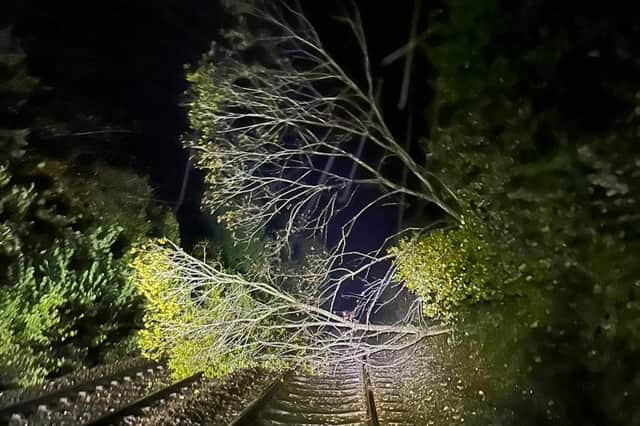 Teams are preparing the railway network to keep passengers moving as smoothly as possible over the coming days as heavy rain and gusts of up to 60mph are forecast, with North and East Yorkshire set to be affected.
Network Rail teams have been working around the clock to try and reduce the impact of severe weather which is expected to be brought by Storm Babet.
This includes proactively working to remove vegetation which may have been at risk of causing disruption to the railway by failing onto overhead lines or tracks.
Extra colleagues will be on hand across the network to help deal with any weather-related incidents more quickly, and engineers have been monitoring known flooding hotspots to try and alleviate the risk of the heavy rain creating floods on the line.
All of this has been done to help keep passengers moving safely and minimise disruption.
Railway neighbours are also being asked to take steps to prevent damage to the rail network by tying down any objects that could get onto the tracks.
No speed restrictions are currently in place ahead of the adverse weather, but Network Rail teams will continue to monitor the weather in real-time throughout the weekend.
Ahead of travelling, Network Rail is encouraging all passengers to check their journey, either via National Rail Enquiries or with their train operator.
Matt Rice, Route Director for Network Rail's North & East route, said: "Our teams will be working extremely hard to keep passengers safely and smoothly on the move throughout this period of adverse weather.
"We are well prepared and have taken proactive steps to solve problems before they arise by removing vegetation which could cause disruption and monitoring areas where we have previously seen flooding.
"I'd ask all our neighbours to tie down anything on their properties that could get onto the tracks, as this will help minimise disruption for passengers.
"We are urging all passengers to check before they travel via National Rail Enquiries or their train operator and thank them in advance for their patience and understanding if their journey is disrupted."
Members of the public are encouraged to report any weather-related damage or obstructions on the rail network by contacting Network Rail's national helpline on 03457 11 41 41.