Met Office issues new yellow weather warning for heavy snow – this is when it is expected to fall in Harrogate
The Met Office has issued a new yellow weather warning for heavy snow across the Harrogate district later this week.
Watch more of our videos on Shots! 
and live on Freeview channel 276
Visit Shots! now
The weather warning covers most of the country and is in place from 3am on Thursday 9 March until 6pm on Friday 10 March.
In excess of 20cm of snow could accumulate over high ground in Scotland and more than 5cm is likely to accumulate even to lower levels in the North East.
The heavy snow is likely to cause disruption, including long delays and cancellations on bus, rail and air travel.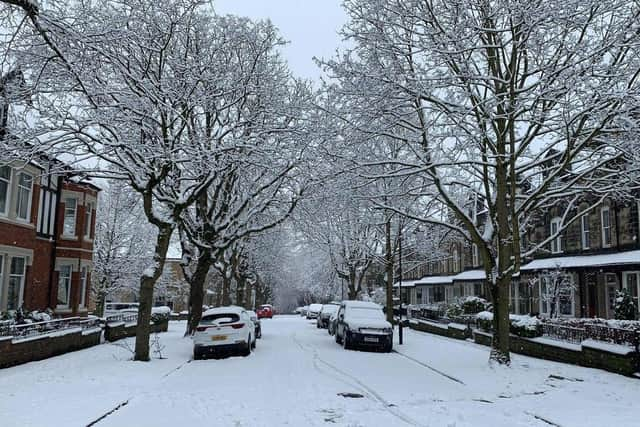 There is also a chance that roads may become blocked by deep snow and some rural communities could be cut off for several days.
Long interruptions to power supplies and other services, such as gas, water, telephone and mobile phone coverage, may also occur.
Met Office Chief Meteorologist Dan Suri said: "Snow, ice and low temperatures are the main themes of this week's forecast, as the United Kingdom comes under the influence of an arctic maritime airmass as cold air moves in from the north.
"Ice will provide an additional hazard for many, with overnight low temperatures well below 0°C."
The UK Health Security Agency has issued a Level 3 Cold Weather Alert for the whole of England.
Dr Agostinho Sousa, Head of Extreme Events and Health Protection at the UK Health Security Agency, said: "During periods like this, it is important to check in on family, friends and relatives who may be more vulnerable to the cold weather, as it can have a serious impact on health.
"If you have a pre-existing medical condition or are over the age of 65, it is important to try and heat your home to at least 18°C if you can.''
Here is the weather forecast for the week ahead and when Harrogate can expect snow...
Cloudy changing to sunny intervals in the afternoon
Temperature as high as 4°
Temperature as low as -4°
Sunny changing to cloudy by early evening
Temperature as high as 4°
Temperature as low as -2°
Yellow weather warning in place for heavy snow
Temperature as high as 2°
9am – 60 per cent chance of snow
12pm – 80 per cent chance of snow
3pm – 80 per cent chance of snow
6pm – 90 per cent chance of snow
9pm – 80 per cent chance of snow
Yellow weather warning in place for heavy snow
Temperature as high as 4°
Temperature as low as -3°
12am – 90 per cent chance of snow
3am – 90 per cent chance of snow
6am – 70 per cent chance of snow
9am – 50 per cent chance of snow
12pm – 20 per cent chance of snow
3pm – 20 per cent chance of snow
6pm – 10 per cent chance of snow
9pm – 10 per cent chance of snow
Cloudy changing to light snow by early evening
Temperature as high as 4°
Temperature as high as 10°