Roadworks: Councillor's anger at utility firms failing to give notice of disruptions in Harrogate district
Harrogate councillors have hit out at a lack of notice of roadworks by utility companies causing delays and disruption despite a new permit scheme.
Friday, 12th March 2021, 9:37 am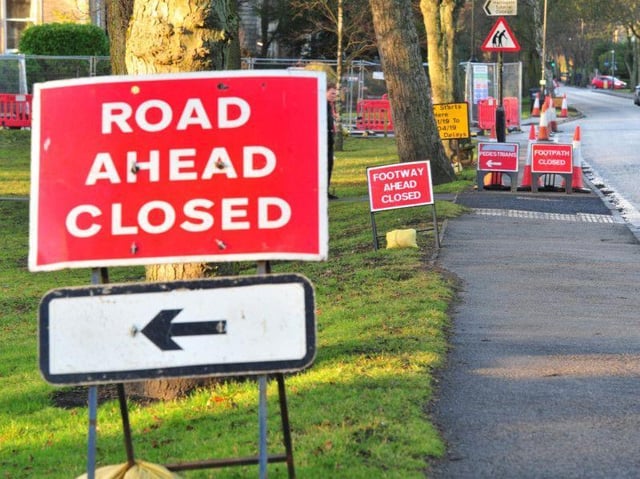 There are complaints utility companies are not giving enough, and in some cases, any, notice to residents. Photo: Gerard Binks.
North Yorkshire County Council introduced a scheme in 2018 which meant utilities companies - such as electricity, water and gas - have to ask permission to dig up roads or pavements rather than just giving notice.
It has since seen an almost 50% decrease in the number of days where works overran, according to a report, but councillors have complained that companies are not giving enough - or in some cases, any - notice to residents.
Councillor Stanley Lumley, who represents the Pateley Bridge and Nidderdale Moors division, said this was a particular problem in rural areas where unannounced road closures have sent motorists on long and unexpected detours.
Speaking at a meeting yesterday, he said: "The problem we have got in rural areas is that there is usually only one road and no alternative route unless it is miles and miles of deviation.
"Residents and councillors completely understand these works have to happen but there needs to be different considerations made in rural areas."
Councillor Lumley said there was also an issue of companies using "cheap" materials to patch up roads and that the council was wrongly being blamed for poor repairs.
He said: "This is putting extra pressure on North Yorkshire County Council because if a person sees a pothole it's always our fault. But it's not. I would say 90% of the time it's the fault of the utilities.
"And these things don't come to light after the nice shiny new tarmac has gone down - they come to light perhaps 12 months later after traffic has been over the roads."
Councillor Margaret Atkinson, who represents the Fountains and Ripley division, added: "There are a lot of housing developments now and I've had complaints that utility companies have turned up on a weekend to dig up the road.
"Surely they are supposed to let people know."Utility companies are not only required to apply to the council for a permit, but must also give notice to residents in the area.
Allan McVeigh, head of network strategy at North Yorkshire County Council, said staff "push hard" for this to happen and that there are simply too many permits being granted for the council to notify all residents themselves.
He said: "The challenge with communication is that the onus is very much on the works promoter to notify and consult with the community.
"And the challenge that we have as the permitting authority is that there are tens of thousands of permits granted each year and it would be very, very resource intensive for us to communicate proactively on all of those works."
Mr McVeigh said while he realised the lack of notice was an issue, the permit scheme had given the county "much more control" over when and where utility works on the highways can happen.
"Undoubtedly the permitting scheme is a big improvement on the old noticing system," he said.
"The greater control that we have today has also improved the level of coordination of works on the highway and works durations, but managing these is always going to be a challenge."
By Jacob Webster, Local Democracy Reporter