Celebrities ride On Yer Bike through district
Road users are being warned of closures on Friday June 25 for a major event through the district.
Thursday, 24th June 2021, 11:26 am
Updated
Thursday, 24th June 2021, 12:31 pm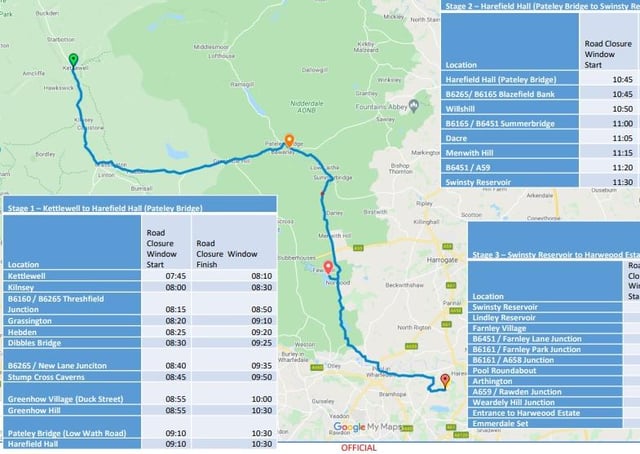 The On Yer Bike charity celebrity cycle race will go from Kettlewell to Harewood with rolling road closures in place, managed by police motorbikes, alongside traffice management.
"This is similar to the approach used during the Tour de Yorkshire cycle races, however, the closure duration will be shorter with the vast majority of closures in place for around 15-25 mins," said Mel Welch of Sport Nidderdale.
Advanced warning signage has been placed on the route, from Wednesday June 16, to warn road users of the potential for delay.
"The timings on these signs reflect the window in which the event is expected to arrive at specific location, with the actual road closure lasting for around 15-25 minutes within that time window," added Mel.
"The closures will be dependent upon the speed of the event and will be removed as soon as the event has passed."
The On Yer Bike event is being filmed for ITV and will be broadcast on ITV1 over the August Bank Holiday weekend.
The event is broken down in to three stages.
A summary of the timings for each stage is outlined as followed:
Stage 1 – Kettlewell to Pateley Bridge (Harefield Hall) - Kettlewell 07:45-08:10; Kilnsey 08:00-08:30; B6160/B6265 Threshfield Junction 08:15-08:50; Grassington
08:20-09:10; Hebden 08:25-09:20; Dibbles Bridge 08:30-09:25; B6265/New Lane Junction 08:40-09:35; Stump Cross Caverns 08:45-09:50; Greenhow Village (Duck Street) 08:55-10:00; Greenhow Hill 08:55-10:30; Pateley Bridge (Low Wath Road) 09:10-10:30; Harefield Hall 09:10-10:30.
Stage 2 - Pateley Bridge (Harefield Hall) to Swinsty Reservoir - Harefield Hall (Pateley Bridge) 10:45-11:15; B6265/B6165 Blazefield Bank 10:45-11:15; Willshill
10:50-11:20; B6165/B6451 Summerbridge 11:00-11:35; Dacre 11:05-11:45; Menwith Hill 11:15-12:00; B6451/A59 11:20-12:05; Swinsty Reservoir 11:30-12:15.
Stage 3 - Swinsty Reservoir to Harewood Estate - Swinsty Reservoir 13:30-13:55; Lindley Reservoir 13:45-14:15; Farnley Village 13:50-14:25; B6451/Farnley Lane Junction 13:50-14:25; B6161/Farnley Park Junction 14:00-14:40; B6161/A658 Junction 14:00-14:45; Pool Roundabout (Leeds CC) 14:00-14:50; Arthington (Leeds CC)
14:15-15:00; A659/Rawdon Junction (Leeds CC) 14:15-15:10; Weardely Hill Junction (Leeds CC) 14:20-15:15; Entrance to Harewood Estate (Leeds CC) 14:25-15:20; Emmerdale Set (Leeds CC) 14:30-15:30.