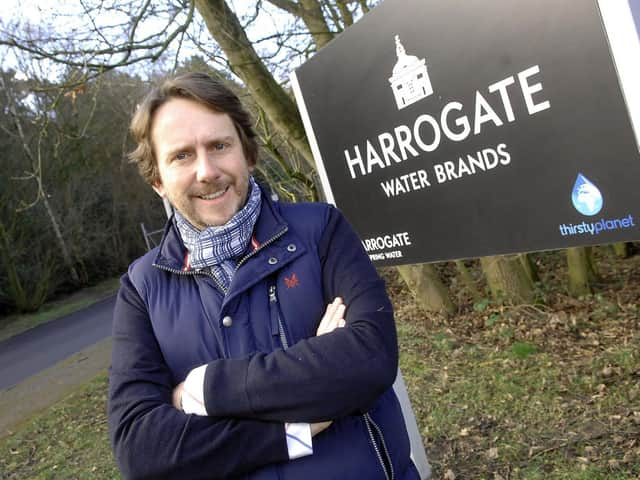 Expansion plans after success - Harrogate Spring Water's managing director James Cain OBE.
The statement comes after Harrogate residents group launched a campaign to raise £5,000 to help protect part of the much-loved woodland from development by internationally-successful Harrogate Spring Water.
The funds raised via Crowd Justice will be used by Pinewoods Conservation Group to retain legal support during the planning phase for top brand Harrogate Spring Water's long-desired expansion plans in Rotary Wood.
The group's fundraising campaign appears to be paying dividends already with more than £1,000 raised from 50 donations in the first three days.
But Harrogate Spring Water has always prided itself on, not only flying the flag for Harrogate with its bottled water, but also in maintaining its high environmental standards.
In November the firm even held a public consultation to discuss the latest version of its plans at its state-of-the-art plant situated on Harlow Moor Road.
Harrogate Spring Water's managing director James Cain OBE told the Harrogate Advertiser the response of people at the open event had been "overwhelmingly positive."
Mr Cain said: "We're local people and give back to the local community
"Whatever we take out will be put back and the end result for the Pinewoods area will be better than at the moment.
"We pride ourselves on being good neighbours and we support the Pinewoods. But we are operating in a competitive era."
The Harrogate company first obtained outline planning permission for the expansion of its bottling facility in 2017 after years of growth saw it become the UK's top premium water brand.
But members of Pinewoods Conservation Group claim Harrogate Spring Water's revised plans have grown from 4,800sqm to 6,800sqm, what they say is a 40% increase since plans were first revealed back in 2017.
A spokesperson for Pinewoods Conservation Group said: "It is very rare for us to ask for funds directly, but we know this is an important issue for our members and visitors.
"We remain concerned at the plans to increase the size of Harrogate Spring Water's current plant.
"Once green space is lost it will be lost forever so it is vital that at this time of a climate emergency that any environmental loss is challenged."
The funds raised by Pinewoods Conservation Group's new campaign will be used to ensure legal advice and support is available at all stages of the planning process.
Harrogate Spring Water's environmentally-progressive policies range from using British-sourced rPET bottles with more than 50% recycled plastic, to raising £2 million for clean water projects in Africa, to sponsoring Harrogate's free electric bus service.