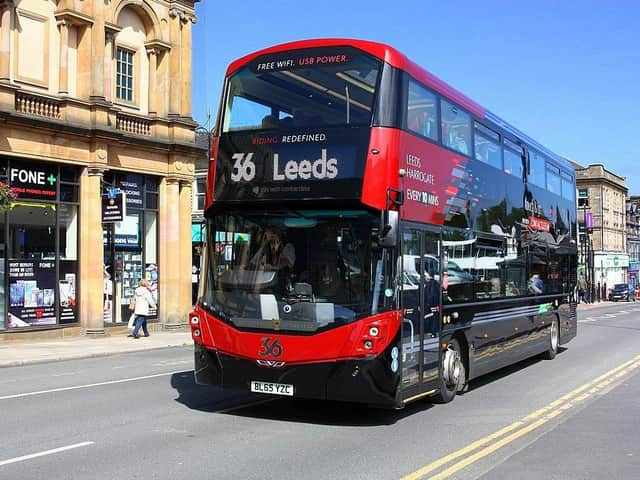 The popular No. 36 bus in Harrogate which runs regularly between Leeds and Harrogate.
Rather than higher ticket prices as on the trains, award-winning bus operator The Harrogate Bus Company has confirmed a New Year price freeze on all tickets.
In terms of the popular No. 36 between Leeds and Harrogate at just £38, a week's unlimited travel on the 36 is almost £5 per week cheaper than taking the train.
All other ticket prices are frozen too, on local buses in Harrogate and Knaresborough, Wetherby, Leeds and further afield.
A week's travel within Harrogate, Knaresborough and Wetherby is £14.50 and within Leeds it's £18.
The Harrogate Bus Company's General Manager Frank Stanisauskis said: "Many of those who travel regularly with us on the 36 between Harrogate and Leeds have already switched to us from the train, and they tell us our frequent service, high quality and great value for money are the reasons why.
"Our 36 buses are packed with customer-friendly features, including free superfast 4G Wi-Fi, USB power points at every seat, plush leather coach seats upstairs, and personal tables with quilted leather seating and a chill-out area on the lower deck.
"Our friendly drivers can also give on-the-spot advice to make sure new passengers get the best ticket for their journey.
"As just £38 per week it's great value and our price freeze sets an even stronger difference against using the train.
"With all the added benefits of unlimited travel on any of our buses, the ticket for a ride to work can take you on a day trip as well as nights out in the city, with buses as late as 3am on Saturday nights."
The £38 ticket can be used on all Transdev buses across the North.
There's a bus between Harrogate and Leeds every 10 minutes on the 36 and during the rush hours buses also serve Park Row and Infirmary Street in Leeds, getting workers right across the city to where they need to go.
In an industry-leading first, all The Harrogate Bus Company's buses have contactless capping for customers who Tap&Cap.
This means for the first time ever, the weekly ticket can be paid for by contactless card even though it's above the £30 limit.
Customers just need to tap their contactless card, smartphone or smart watch onto the reader as they get on and off the bus and their weekly costs will automatically be capped at £38.