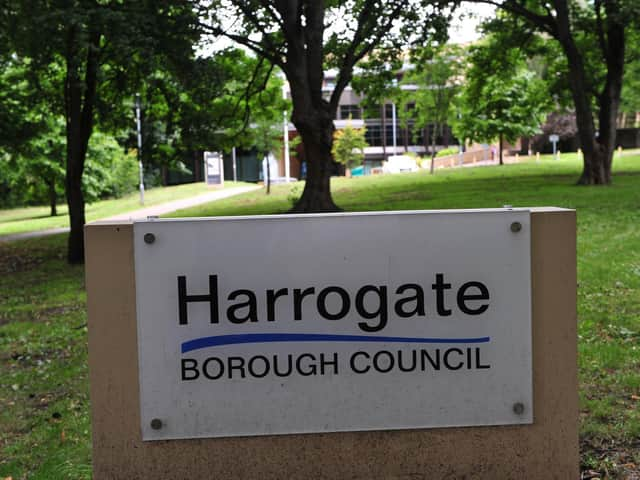 What future for Harrogate Borough Council under in the complicated picture of devolution?
Even though the whole process is threatening to turn into a case of 'one step forwards, two steps back', council tax payers should prepare themselves for the very real possibility that by the time they do go to the polls again in, most probably, 2022, district councils such as Harrogate could already be a thing of the past and the county council itself may look very different.
But that's if the current increasingly complex political stalemate that exists on the subjects within North Yorkshire lifts.
The Secretary of State for Housing, Communities and Local Government Robert Jenrick may have finally invited local leaders earlier this week to submit their plans for the biggest council shake-up for decades in North Yorkshire by November, but the splits within the county have, if anything, grown wider since the original deadline in September failed to materialise amid the national picture on the Covid pandemic and local political wrangling.
It's a situation Coun Carl Les, the leader of North Yorkshire County Council, fears could cost the county dear in the battle for economic recovery during the Covid pandemic.
Coun Les said: "With every week we are falling behind in devolution, which is necessary to get millions of pounds into the North Yorkshire economy from the Government. How long can we afford to wait?"
The Government has made it plain that the creation of a new combined authority for all of York and North Yorkshire - headed by an elected mayor - would have to be balanced by removing a layer of local government in North Yorkshire.
As a result, it has always insisted that any devolution deal wherever it was should be accompanied by a reduction in district councils and their replacement by new, larger unitary authorities.
Such a development would make the next set of county council elections in North Yorkshire scheduled for May 2021 redundant and the expectation was these would be cancelled.
Just two months ago, all the existing district councils in North Yorkshire appeared to be in agreement on the question of devolution itself and the increased economic control and additional Government financial support that it would also bring to North Yorkshire.
The debate at that point was over the nature and size of the new unitary authorities after the eradication of the district councils to avoid the duplication of political powers and enable cost savings in the delivery of council services.
North Yorkshire County Council favoured what has been criticised as a 'mega-council' model, which would create a unitary authority covering the whole of North Yorkshire, with a population of 618,000, while preserving the existing City of York unitary authority with a population of 211,000.
In opposition to this, the county's seven district council leaders, including the likes of Craven, Richmondshire, Scarborough, Selby and Harrogate, support the creation of two unitary authorities with a similar population and economic size - one consisting of Craven, Harrogate, Richmondshire and Hambleton in the West, mirrored by another with Selby, City of York, Ryedale and Scarborough in the East. But an additional complication has risen in recent weeks.
Until the last few weeks, that clash of visions for the new unitary authorities was the biggest stumbling block standing in the path of devolution for York and North Yorkshire, the latest region to fall under the spell of the Government's pledge to give more power to the regions, 'level up' prosperity across the UK and boost economic recovery from the Covid pandemic.
Coun Carl Les, the leader of North Yorkshire County Council said: "It's not clear whether the Government would allow devolution itself to go ahead without new unitary authorities being created.
"The Government's stated position in July under the then Secretary of State of Housing, Communities & Local Government, Simon Clarke, was you couldn't do devo without it.
"There are multi-million pounds-worth of savings and efficiencies which are dependant on unitary reorganisation."
But the picture has become even more complicated recently with a new split which threatens the central core of the devo strategy.
Two of the 'rebellious' seven district councils, Ryedale and Hambleton, are now refusing to support North Yorkshire's overall push for devo and an elected mayor until they have held a further meetings, one of which is expected in December, the other not until next year.
North Yorkshire County Council's exasperation at this turn of events is palpable.
County council leader Carl Les says, in theory, the county council could submit its devo 'asks' without the agreement of all the district councils, though it's not an idea he would welcome.
He said: "Technically, we could submit it but it would be better if we were all on the same page. We have been trying all this time to have a consensus view.
"But Ryedale hasn't agreed on devo yet and Hambleton is now saying they won't consider it at all unless the districts get their way on the reorganisation of unitary authorities holds.
"At the moment, we are, in effect, being held up by two councils."
"The problem is, this is only the start of the process. It will probably take a year to negotiate all the 'asks' in our devolution document with the Government.
In an unexpected turn of events, this leaves an unlikely scenario no one could have predicted.
In theory, next month could see the two sides' rival submissions on unitary authorities go to the Government, while the devolution 'ask's plan, which is the central point and driving force of the whole idea, is left on the shelf, albeit temporarily.
The county council is not sure that is an avenue worth exploring. Crazier things have happened, though.
Coun Les said: "A few regions have reorganised their local councils without having a new elected mayor but they have not received the same amount of money.
"The Government clearly favours dealing with an elected mayor as the single point of contact when allocating millions of pounds of new money for economic growth and a better skills agenda."
As for Harrogate Borough Council, which would cease to exist in North Yorkshire County Council's vision of the future, it continues to support devolution for York and North Yorkshire.
But, like the other district councils involved, it has been so worried about the implications for loss of local power to Northallerton should a new 'mega council' come into being, it is backing a new report on the subject by experts at KPMG.
Commissioned by the seven district councils, the report says an 'East and West' model of unitary reorganisation would provide the most effective services, most administrative savings and the fairest democratic representation.
Councillor Angie Dale, Leader of Richmondshire District Council, speaking on behalf of the leaders, said this week: "We fully expect North Yorkshire County Council to submit a proposal for a 'mega-council', which would create a massive imbalance in any combined authority.
"North Yorkshire is five and a half times the size of Greater London; it's as big as Bedfordshire, Berkshire, Buckinghamshire, Hertfordshire and Oxfordshire combined.
"We know many people fear that in a county-wide unitary, local knowledge and representation of local communities will be lost, and this is a real danger.
"This means we will have no choice but to submit our alternative model.
"We recognise how important devolution is to the region and the east/west model is the strongest approach to achieve a balanced combined authority with an elected mayor.
The expense involved with compiling the KPMG report has been enough to rile Harrogate's Lib Dems which, like Harrogate's Labour Party, condemn any sort of devolution which would take power and decision-making further away from local residents.
In fact, opposition parties remain convinced this is the worst possible time for such a radical change in local government to happen at all.
Coun Geoff Webber, Liberal Democrats group leader for North Yorkshire, said: "The Conservatives can claim that the East-West divide is the best option until they're blue in the face, but until they release the information they have received from KPMG it's all a lot of hot air.
"What have they got to be so afraid of? Taxpayers have forked out possibly hundreds of thousands in consultancy fees for this."
But North Yorkshire County Council remains confident everything will still end up in place by 2023, the date the Government expects devolution and the new shape of local government in York and North Yorkshire to be done and dusted.
It sees the current stalemate as a temporary matter than can be surmounted.
Coun Les said: "We don't think next May's county council elections will go ahead. They will probably be postponed for a year and, when they are held, it may no longer be a county council election as we know it."
A message from the Editor
Thank you for reading this story on our website. While I have your attention, I also have an important request to make of you.
In order for us to continue to provide high quality and trusted local news on this free-to-read site, I am asking you to also please purchase a copy of our newspaper.
Our journalists are highly trained and our content is independently regulated by IPSO to some of the most rigorous standards in the world. But being your eyes and ears comes at a price. So we need your support more than ever to buy our newspapers during this crisis.
With the coronavirus lockdown having a major impact on many of our local valued advertisers - and consequently the advertising that we receive - we are more reliant than ever on you helping us to provide you with news and information by buying a copy of our newspaper.