Harrogate Lib Dem condemns Tories' 'cold-hearted' approach to rough sleeping
A leading Harrogate Lib Dem has said Britain's growing homeless problem needs some of the "spirit of places like Harrogate and Knaresborough".
Watch more of our videos on Shots! 
and live on Freeview channel 276
Visit Shots! now
Tom Gordon, Liberal Democrat Parliamentary Candidate for Harrogate and Knaresborough, said the district's approach to the problem based on a sense of community and compassion contrasted with what he described as the Government's "cold-hearted political stance".
"I can't stay silent about the recent comments by Home Secretary Suella Braverman, who called rough sleeping a "lifestyle choice" and wants to restrict the use of tents by homeless people," said Mr Gordon.
This just feels wrong on so many levels, and it certainly doesn't represent the views of Harrogate and Knaresborough people I know.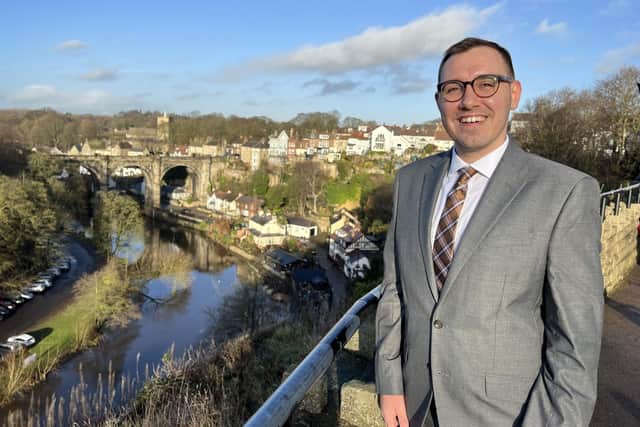 "Our towns have always been known for their sense of community, compassion, and the way we rally around those in need."
Mr Gordon's comments follow the Home Secretary's suggestion that people providing homeless people with tents should be penalised.
"We saw at the weekend fundraising for Harrogate Homeless Project at Harrogate Round Table's Bonfire Night event," said the Harrogate Lib Dem candidate.
"That's the spirit of our towns, where people genuinely care about each other.
"Homelessness is not a "lifestyle choice" and any suggestion it is is the most desperate of politics.
"The majority of homeless individuals are often dealing with difficult circumstances beyond their control.
"We should be focused on addressing the root causes of homelessness, such as this government's chronic failure of housing policy, rather than penalising those who are trying to survive on the streets.
"Charities are doing their best to support those in need, and these proposals undermine their important hard work."
The appearance of an encampment of rough sleepers in Crescent Gardens in Harrogate last month led to complaints from local residents.
But Harrogate has long had a cross-party approach to dealing with the situation combining discouraging street begging with supporting individuals to get off the streets and turn their lives around.
In 2021, the Tory-controlled Harrogate Borough Council opened Fern House at a cost of £2.3 million to help provide more accommodation for homeless people in the town.
In 2019, The Street Aid scheme was launched to discourage people giving cash to beggars and instead donate via a contactless payment terminal to Harrogate Homeless Project.
The charity was founded in 1992 to work with local authorities to provide people experiencing homelessness with a safe place to stay and the support they need to move towards independent living.
A daycentre called Springboard which provides food, washing facilities, computer/internet access and drop-in services to assist homeless and vulnerably housed people;
A rough sleeper resettlement scheme called No Second Night Out providing emergency shelter with a view to facilitating a sustainable offer of accommodation;
A pathway back off the streets and into independent living utilising HHP's 16-bed hostel with support attached.
Harrogate's Tory MP Andrew Jones is a long-term supporter of Harrogate Homeless Project, saying:
"If people wish to support rough sleepers, the homeless or those at risk of becoming so I encourage them to give to Street Aid and other local homeless charities like Harrogate Homeless Project."
But local charities have reported that homelessness has "significantly increased" in the Harrogate district in the last 18 months amid the challenges caused by Covid and the cost of living crisis.