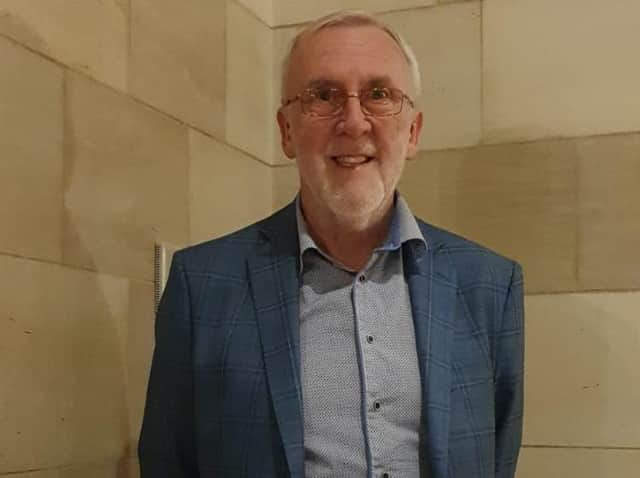 Yorkshire Party candidate John Hall.
John Hall is standing in his third election for the party which launched six years ago with the aim of devolving spending and decision-making powers from Whitehall to Yorkshire.
And while the government rejected its 'One Yorkshire' devolution bid in 2019, Mr Hall said the party's priorities remained clearer than ever.
"Fairer funding for Yorkshire is our main message," Mr Hall said.
"School pupils who live in the London borough of Tower Hamlet receive around £6,965 of government funding per head, while those in Yorkshire get £4,613. This is not fair and something I want to tackle.
"We want a proper Yorkshire devolution package to keep as much localism as possible.
"And where Yorkshire Party candidates have been elected in the past, they have always been a success. We are pushing a new message but we know we can make a difference."
Mr Hall previously stood to be MP for Thirsk and Malton and also for the Starbeck seat on Harrogate Borough Council.
His party have previously won seats on three councils in Yorkshire including North Yorkshire County Council, East Riding Council and Selby District Council.
Speaking about the issues he hopes to tackle as the new county councillor for the Bilton and Nidd Gorge division, he said: "I do know anti-social behaviour is becoming an issue so I would hope to get a good working relationship with police right from the word go.
"Affordable housing is another issue I want to get involved in and I would insist that any new homes to be built must fit almost seamlessly into the area.
"It's going to take time for me to truly understand all of the issues and concerns in Bilton but I would be a new broom who could start afresh and not be tied to any existing problems or difficult relationships, as I know there is some hostility currently."
The by-election is being held following the death of Liberal Democrat councillor Geoff Webber in March.
The other candidates include Matt Scott (Conservative), Andrew Kempston-Parkes (Liberal Democrat), Anrold Warneken (Green Party), Tyler Reeton (Labour Party) and Harvey Alexander (Independent).
Voting will take place on Thursday 6 May - the same day that voters will choose a new North Yorkshire Police, Fire and Crime Commissioner with the winners set to be announced the following day.
Voters will be required to bring their own pen or pencil to polling stations, wear a face covering, wash their hands when entering and leaving, and keep a safe distance from others.
People should not attend the polling station if they have symptoms of Covid-19 or if they have been asked to self-isolate. Anyone who cannot because of these reasons has up to 5pm on polling day to apply for an emergency proxy vote.
For more information go to www.harrogate.gov.uk/voting-elections
Meanwhile, there are no full elections being held for all seats on Harrogate Borough Council or North Yorkshire County Council.
This article is part of a series of profile pieces about the by-election candidates. Each profile will be published online in the run-up to polling day.
By Jacob Webster, Local Democracy Reporter