Election countdown: Lib Dem candidate says voting for Labour or Greens 'will just let the Conservatives win'
The Liberal Democrat candidate standing in tomorrow's Bilton and Nidd Gorge by-election says a vote for Labour or the Green Party "will just let the Conservatives win".
Wednesday, 5th May 2021, 10:53 am
Updated
Wednesday, 5th May 2021, 10:54 am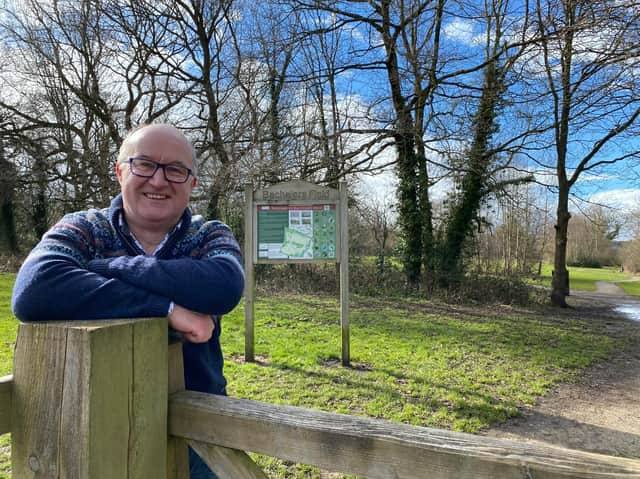 Liberal Democrat candidate Andrew Kempston-Parkes.
Andrew Kempston-Parkes who has previously represented the Bilton area on Harrogate Borough Council, said in a message to Labour and Green voters: "your vote is safe with me".
He is one of six candidates competing to take the Bilton and Nidd Gorge seat on North Yorkshire County Council which has been left vacant following the death of Lib Dem councillor Geoff Webber in March.
Mr Kempston-Parkes said he has "big shoes to fill" but hoped to continue the "great work that Geoff did" if elected.
He said: "I would be honoured if the people of Bilton and Nidd Gorge would trust me to be their county councillor - they have my word that I will work tirelessly for them.
"I want to continue the great work that Geoff did in being a voice for local people, the homeless and those seeking affordable houses. I also want to support our great educational establishments, protect our green spaces and stop overdevelopment.
"Another big thing I would push for is a park and ride similar to the one in York which has been a great success.
"Harrogate could benefit hugely by taking more traffic out of the town and bringing more people in. Sadly there has been lots of talk but no action on this in the past."
Mr Kempston-Parkes is a local businessman who runs a chartered surveyors firm in Harrogate. He previously served as a borough councillor for four years but lost his seat in the 2011 elections.
He said there is a "real need for change" in local politics which has "Conservatives at every level".
"I feel there is incompetence and arrogance, and the Conservatives are not helping our town," he said.
"It's only through hearing opposing views and listening to arguments that we can find the best way forward.
"I would ask anyone who sees themselves as centre or left-centre on the political spectrum to vote for me. A vote for Labour or the Green Party will just let the Conservatives win".
The other candidates include John Hall (Yorkshire Party), Matt Scott (Conservative), Anrold Warneken (Green Party), Tyler Reeton (Labour Party) and Harvey Alexander (Independent).
Voting will take place on Thursday 6 May - the same day that voters will choose a new North Yorkshire Police, Fire and Crime Commissioner with the winners set to be announced the following day.
Voters will be required to bring their own pen or pencil to polling stations, wear a face covering, wash their hands when entering and leaving, and keep a safe distance from others.
People should not attend the polling station if they have symptoms of Covid-19 or if they have been asked to self-isolate.
Anyone who cannot because of these reasons has up to 5pm on polling day to apply for an emergency proxy vote.
For more information go to www.harrogate.gov.uk/voting-electionsMeanwhile, there are no full elections being held for all seats on Harrogate Borough Council or North Yorkshire County Council.
This article is part of a series of profile pieces about the by-election candidates. Each profile will be published online in the run-up to polling day.
By Jacob Webster, Local Democracy Reporter