What does the future hold for Harrogate's multi-million pound Civic Centre?
When the final cost of Harrogate Borough Council's new Civic Centre headquarters was revealed last year, divided opinions over whether the build was worthwhile were widened even further.
Monday, 15th March 2021, 7:10 pm
Updated
Monday, 15th March 2021, 7:14 pm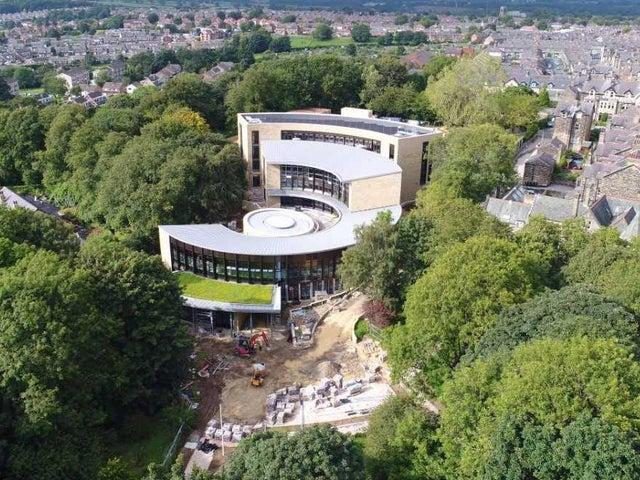 Harrogate Borough Council's new headquarters at Knapping Mount during its construction.
The £13million site at Knapping Mount was branded by some as a "vanity project" and sheer waste of money, while its supporters said it represented "massive savings" and value for council tax payer's cash.
Now, there are questions over what role the building will have in the future. Under government plans to reorganise North Yorkshire's local government structure, the county's seven district councils are set to be abolished and replaced with either one or two new unitary authorities.
It means Harrogate Borough Council and its presence at Knapping Mount - which was completed just four years ago - could soon cease to exist as early as 2023 and there is no clear path forward for how the building will be used in the future.
North Yorkshire County Council is behind the plans for a single authority to run the county and its leader said while it would be for the new council structure to decide what role Harrogate's Civic Centre could have, it would be "foolish" for it not to be used in some capacity.
"It is a modern, purpose-built building and I would hope its efficiencies will be taken advantage of in the future," councillor Carl Les told the Local Democracy Reporting Service.
"There is a clear need for a council presence in each part of our county and that will require a review of all local government buildings.
"North Yorkshire County Council already has more staff and services in each district, and under our proposals there is no intention whatsoever to move all services and decision-making to Northallerton."
It was in November last year when the final £13,144,512 cost of the Civic Centre was revealed - three years after construction was completed.
The long delays in determining the figure were blamed on complications with the construction company going into administration, but once it was tabled the council said it showed "significant savings" against the build budget.
The modern building was also hailed as being able to give £1milllion savings a year through energy efficiencies, with council leader Richard Cooper adding it would "streamline" the way services including sports centres, planning and recycling are run.
And with the prospect of all local services soon coming under the control of a new council structure, councillor Cooper said he believes the Civic Centre should be a "strong contender" for a new North Yorkshire headquarters against the county council's current base in Northallerton.
He said: "Whichever local government model is chosen there will still need to be a strong local government presence in Harrogate for which the Civic Centre is ideally placed as a modern, award-winning, green, cost-effective office.
"Harrogate is the largest town in North Yorkshire and so it would be the largest town in my preferred option of a smaller more local council based on the west of the county.
"With good and improving transport links, a modern fit-for-purpose headquarters and a national and international brand it would seem to me that Harrogate would be a strong contender to be the headquarters of the new council."
The reorganisation of North Yorkshire's councils was announced last summer when local leaders were told that devolution could not happen unless the existing two-tier system of local government was abolished.
Currently some services are carried out by the county council and others by the seven district councils.
North Yorkshire county council has submitted a proposal for one authority covering the whole county, while district leaders want two authorities split down the A1M, with York merged into an authority with Ryedale, Selby and Scarborough, and Harrogate joined with Craven, Richmondshire and Hambleton.
A consultation on the two options is underway and a final decision will be taken by the local government secretary Robert Jenrick later this year.
To have your say go to https://consult.communities.gov.uk/governance-reform-and-democracy/northyorkshire/
By Jacob Webster, Local Democracy Reporter