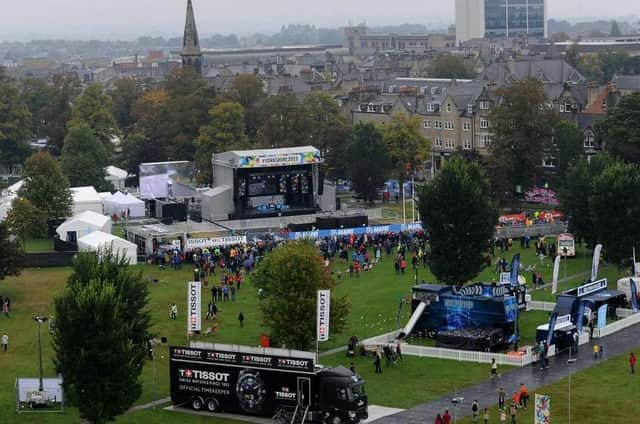 The nine-day event saw hundreds of international cyclists competing in races starting in different towns and cities across Yorkshire - but with each finishing in Harrogate.
Members of Harrogate Borough Council's overview and scrutiny commission are behind the review which will be published ahead of a meeting on July 4.
The nine-day cycling event was hailed by organisers as a "once in a lifetime moment" for Harrogate, but was also criticised by businesses and residents in the town who had complaints over disruptions during road closures.
It is also infamously remembered for leaving Harrogate's West Park Stray severely damaged after the parkland was used as a spectator area during heavy rainfall, with repairs works and upgrades later costing £130,000.
Conservative councillor Nick Brown, who has chaired the cross-party review, previously said the commission hoped to publish a final report last year, however, there have been several delays.
Speaking to the Local Democracy Reporting Service, he said: "I can confirm that after long deliberations, Covid and the recent local elections, it is planned for me to present the review on 4 July.
"The purpose of the review is to fully understand the impacts of this large-scale event for people who live and work in the area, and to also make any recommendations based on the evidence presented during the investigation.
"It should make interesting reading and perhaps will be useful for the new North Yorkshire unitary authority which will be involved in holding future events."
Councillor Brown also said the views of residents and businesses have been "extremely useful" in shaping the review which involved a survey last year.
The review is separate to an economic impact study which was carried out by accountancy firm Ernst and Young at a cost of £19,000 to the council.
This study concluded the championships resulted in an economic boost to the local economy of £17.8 million and was watched by a global television audience of 329 million.
It also said 84 per cent of people who came to watch the event were satisfied or very satisfied with it.
However, it did not take into account a reported drop in earnings for some businesses whose complaints rumbled on long after the event was held.
Retail campaign group Independent Harrogate previously conducted its own survey looking into the event's economic impact. After speaking to 22 of its members, the group claimed losses amounted to nearly £1m.
Based in Harrogate as the host town, the championships were held in the UK for the first time in nearly 40 years after a joint-bid by British Cycling, UK Sport, Welcome to Yorkshire and the government's sport and culture department.
The event organisers were Yorkshire 2019 - a now-dissolved company which was set up by the government and later contributed £35,500 towards the West Park Stray repair costs.
A further £95,000 was spent on park upgrades by Harrogate Borough Council which spent a total of £606,000 on hosting the event.
The biggest single cost was £200,000 for the fan zone on West Park Stray.
By Jacob Webster, Local Democracy Reporter