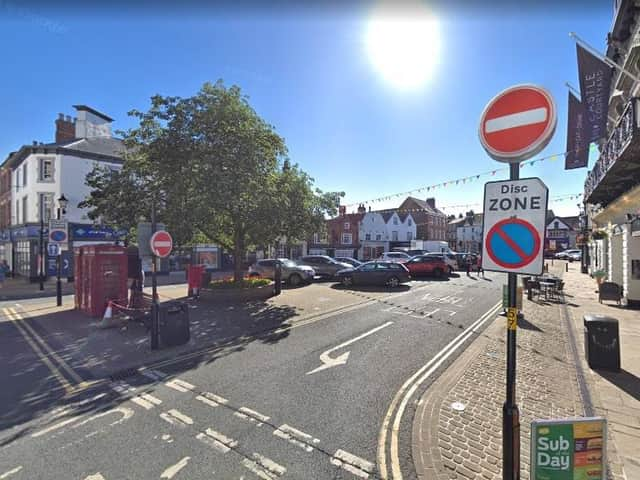 Market Place, Knaresborough. Photo: Google.
North Yorkshire County Council doubled the length of time cars can park for free on Market Place from 30 minutes to an hour last summer in a temporary move designed to help businesses while social distancing measures are in place.
But the offer will now come to an end on 18 April after council officials said parking data showed the majority of motorists left within the hour and that reverting back to 30 minutes would encourage a greater turnover of shoppers.
Karl Battersby, the county council's corporate director of business and environmental services, told the Local Democracy Reporting Service: "While we accept that the current circumstances are not reflective of typical conditions, analysis of the performance of the one-hour free parking offers no basis for it to be introduced permanently.
"The anticipated easing of lockdown restrictions in the coming months supports a return to the normal operation to aid traffic management and to provide better turnover of spaces."
The parking policy was introduced alongside a similar scheme in Northallerton after the county council faced pressure from some business leaders who were calling for greater support even before the pandemic struck.
The one-hour extension was agreed in July and then became operational in September.
Councillor Ed Darling, who sits on both Knaresborough Town Council and Harrogate Borough Council, said while the return to 30 minutes may be "disappointing" for some, it was backed by data as he also urged shoppers to get behind the town by supporting local businesses when they reopen on 12 April.
He said: "The past year has been exceptionally difficult for town centre retailers who have been forced to close for the majority of the year. "I do hope that our local community gets behind our town centre, supporting our local businesses and shops to kickstart our local economy once again."
Bill Taylor, secretary of Knaresborough Chamber of Trade and Commerce, added: "All town centres struggle with parking generally, and how to charge is a part of that. As shops reopen in April then moving back to the original charging system seems reasonable and allows for a higher turnover of shoppers for the greater variety of shops that are open.
"In addition, Knaresborough has a large, good value but under-utilised car park on York Place and the Knaresborough Town Council have worked with the county council to install new signs around town for that car park."
By Jacob Webster, Local Democracy Reporter