Local elections 2021: Everything you need to know about voting in Harrogate
It's just ten days to go until Harrogate residents head to the polls to vote in the local elections.
Monday, 26th April 2021, 1:14 pm
Updated
Monday, 26th April 2021, 1:18 pm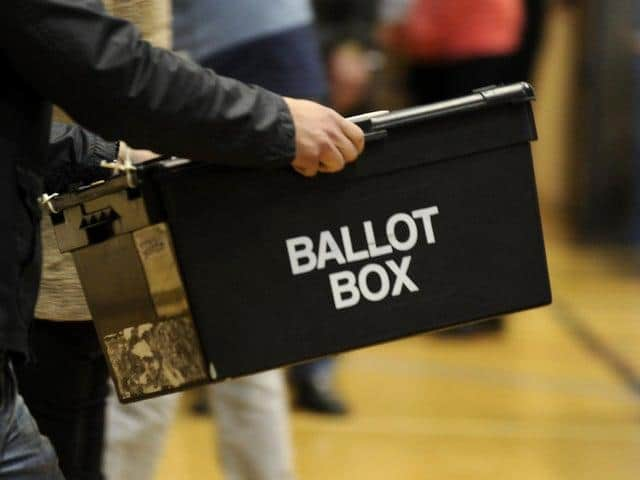 Voting will take place on 6 May.
On 6 May voters will choose a new police, fire and crime commissioner for North Yorkshire, as well as a new county councillor for the Bilton and Nidd Gorge division.
Why are elections taking place?
A full election for all seats on North Yorkshire County Council was scheduled for next week but has been cancelled because of plans to reorganise the county's local government structure.
The government is expected to announce elections for a new unitary council or councils, which will replace the current two-tier system in North Yorkshire, will instead happen in 2022.
Meanwhile, the Bilton and Nidd Gorge election is being held following the death of Liberal Democrat councillor Geoff Webber.
Next week will mark the third time that police and crime commissioner elections have been held since the role was created in 2012. The election was originally due to take place in May last year but was postponed by the pandemic.
There are no elections to Harrogate Borough Council but the authority is in charge of collecting votes and has announced a number of changes will be in place due to Covid-19.
Voters in the elections must be 18 or over on the day of the election.
All voters must be registered at an address in the area where they want to vote, be a British citizen, an Irish or EU citizen or an eligible Commonwealth citizen and not legally excluded from voting.
There are three ways to vote including in person at a polling station, by postal vote and by nominating someone to vote for you (a proxy vote).
The deadlines to register to vote and for a postal vote have passed, while people can still apply for a proxy vote up until 5pm tomorrow (27 April.)
People voting in person will be required to bring their own pen or pencil, wear a face covering, clean their hands when entering and leaving, and keep a safe distance from others.
Voters should not attend the polling station if they have symptoms of Covid-19, or if they have been asked to self-isolate.
Anyone who develops symptoms, or is asked to self-isolate shortly before polling day, has up to 5pm on polling day to apply for an emergency proxy vote.
Wallace Sampson, chief executive at Harrogate Borough Council and local returning officer for the police, fire and crime commissioner election, said: "You do not need your poll card to vote, however, we encourage voters to bring it with them to make the process quicker and more efficient.
"Polling stations will be open from 7am to 10pm on Thursday 6 May. If you have opted to vote by post you must return your postal ballot pack by 10pm. You can hand it in at any polling station if you don't have time to return it by post.
"Please also check the information on your polling card, as your polling station might have changed since the last elections."
A number of polling stations across the Harrogate district have temporarily and permanently moved locations following a review which found some did not have warm running water for hand-washing, were too small for social distancing or were unavailable to be booked.
The following polling stations have moved temporarily:
· All Saints Church School has moved to Sicklinghall Village Hall
· Baldersby Mission Room has moved to Rainton Village Hall
· Lofthouse Memorial Hall has moved to Middlesmoor Village Hall
· St Mary's Church at Dunsforth has moved to Boroughbridge Methodist Church
· St Michael's all Angels Church at Wilsill has moved to Broadbelt Hall, Glasshouses
· The Inn at South Stainley has moved to Markington Village Hall
· The Kitchen, Asenby Hall has moved to Rainton Village Hall
· Woodside, Carters Lane has moved to Askwith Village Hall
· Nun Monkton Primary School has moved to Kirk Hammerton Village Hall
· St George's Social Club has moved to Marks Church Hall
The following three polling stations have also permanently moved;
· North Rigton Primary School has moved to St John's Church, North Rigton
· The Hydro has moved to Jennyfield Evangelical Church, Grantley Drive
· Citizen's Advice Bureau has moved to The Wesley Centre, Oxford Street
There are four candidates in the running to become the new North Yorkshire Police, Fire and Crime Commissioner.
These include Philip Allott (Conservative), Alison Hume (Labour), James Barker (Liberal Democrat) and Keith Tordoff (Independent).
Those standing in the Bilton and Nidd Gorge by-election include Matt Scott (Conservative), Andrew Kempston-Parkes (Liberal Democrat), Arnold Warneken (Green Party), Tyler Reeton (Labour), John Hall (Yorkshire Party) and Harvey Alexander (Independent).
For more information and how to apply for a proxy vote go to: www.harrogate.gov.uk/voting-elections/police-fire-crime-commissioner-election
By Jacob Webster, Local Democracy Reporter