Harrogate Gateway: Nearly half of residents support full pedestrianisation of James Street, survey suggests
The results of a key survey on the £7.9m Harrogate Gateway project have been revealed - with nearly half of respondents coming out in favour of a full pedestrianisation of James Street and one-lane traffic on Station Parade.
Tuesday, 18th May 2021, 10:19 am
Updated
Tuesday, 18th May 2021, 10:47 am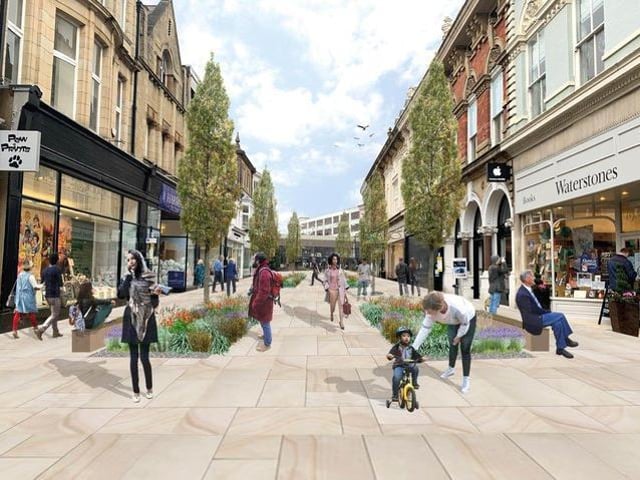 Harrogate Gateway: This is how James Street could look if it is pedestrianised.
North Yorkshire County Council held the survey earlier this year to find out how Harrogate residents felt about a future with greater priority for pedestrians and cyclists as part of plans under the government's Transforming Cities Fund.
It found 45% of 1,101 respondents favoured a full pedestrianisation of James Street, while 32% said no changes should be made and 17% backed a partial pedestrianisation.
For Station Parade, 49% favoured an option to reduce traffic to one-lane, while 27% indicated they wanted to see it retained as two-lane and 24% said neither option was workable.
Harrogate Gateway: This is how Station Parade could look with public space improvements and one-lane traffic.
A report to an executive meeting next Tuesday (25 May), which recommends progressing designs for the full pedestrianisation and one-lane options, said the main areas of concern from respondents were the risk of congestion, impact on businesses and loss of on-street parking.
It added traffic modelling had indicated there would be an increase in journey times, although roads in the area would continue to "operate effectively" and that the loss of parking would equate to 5% of spaces in the town centre.
Councillor Don Mackenzie, executive member for access at North Yorkshire County Council, said: "We are grateful to everyone across each of the towns who took the time to share their views in the consultation. We have listened.
"The next steps we are considering take into account the feedback we have received. They take account of concerns raised while providing significant benefits to facilitate and encourage people to cycle and walk.
"There will, of course, be further consultation on detailed proposals before final decisions are taken."
Also included in the plans are cycle lanes for East Parade as well improvements to public spaces at One Arch and Station Square which all received a positive response during the consultation.
Under the next stages of the project, further public consultation will take place in autumn following the development of detailed designs and a business case.
And subject to a final approval, the aim is for construction to begin by summer 2022 with completion in 2023.
Councillor Phil Ireland, cabinet member for carbon reduction and sustainability at Harrogate Borough Council, said: "It is positive to see that the proposals for sustainable alternatives to the car, and an improved and exciting public realm, have significant support from residents, businesses and visitors alike.
"The benefit of carrying out a consultation early on in the process is that we have everybody's feedback and ideas to feed into the next phase of detailed design work.
"We can now collectively work together, review the feedback, explore our options and design a 21st century travel network that supports economic growth for the region and something people can be proud of."
By Jacob Webster, Local Democracy Reporter