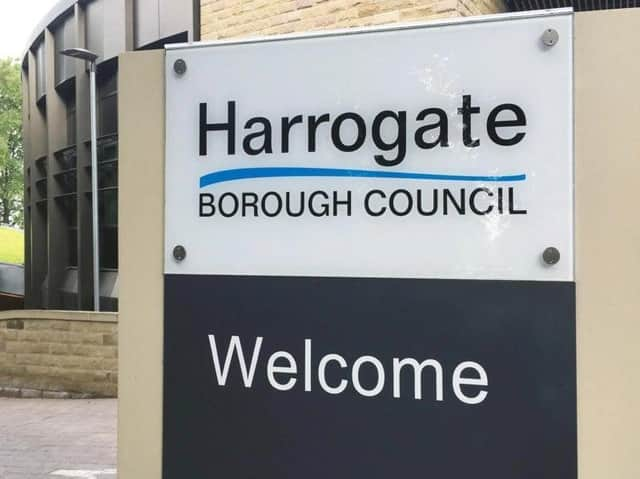 The five most senior officials at Harrogate Borough Council earned more than £100,000 during 2019/20.
The Taxpayers' Alliance has this week published its Town Hall Rich List which details the salaries of all the top earners at local authorities across the UK during the 2019/20 financial year.
It shows the five highest paid council officials serving the Harrogate district earned a combined total of £565,636 once their individual salaries, expenses and pension contributions were added up.
The top earner was the council's chief executive, Wallace Sampson, who was paid £125,571 - an almost £3,000 rise on the previous financial year.
He was followed by the director of Harrogate Convention Centre, Paula Lorimer, who leads a team of 24 council staff at the events venue and received £120,012.
Next up was the council's director of corporate affairs, Rachel Bowles, who has responsibilities including finance, elections and communications, and earned £107,763.
The director of economy and culture Trevor Watson saw the largest increase in his salary with a £5,622 rise from the previous financial year and a total pay packet of £106,976. He has responsibilities for areas including planning, building control, and sports and leisure.
Last on the list was the council's former director of community Paul Campbell who was paid £105,314.
He had responsibilities for emergency planning, housing and homelessness before he suddenly resigned from his post in March last year. The council has since not replaced Mr Campbell.
Nearby in Leeds, the city council had 18 members of staff earning more than £100,000 during the same financial year.
And the local authority with the greatest number of employees whose pay was in excess of £100,000 was Essex County Council with 40 employees, five more than the previous year.
Meanwhile, the single highest paid council official was the deputy chief executive at Coventry Council who received £573,660.
The TaxPayers' Alliance claims to speak for "ordinary taxpayers fed up with government waste" and has criticised councils for not providing value for money from tax payments while raising council tax and giving senior staff pay rises.
Its chief executive John O'Connell said: "Taxpayers facing huge and hated council tax rises want to know they are getting value for money from their local authority leadership.
"At the onset of the coronavirus crisis, thousands of town hall officials were taking home huge sums. While councils were plunged into tackling the pandemic, many staff will have more than earned their keep, but households have nevertheless struggled with enormous and unpopular council tax rises.
"These figures shine a light on the town hall bosses who've got it right, and will enable residents to hold those who aren't delivering value for money to account."
In Harrogate, council tax payers are this month facing rises from the borough council, North Yorkshire County Council, and police and fire services which will push the average bill for a Band D property above £2,000.
A spokesman for Harrogate Borough Council said it has "nothing to hide" when it comes to its officers' salaries and issued the following statement:
"We have always published our senior salaries and our pay policy on our website and have nothing to hide. These salaries are in line with those paid by comparable local authorities and are regularly reviewed."
By Jacob Webster, Local Democracy Reporter