Harrogate Convention Centre boss defends move to recruit new £60k-a-year head internally
The director of Harrogate Convention Centre has defended a move to recruit a new head of operations internally after concerns were raised that top candidates outside of the council-run venue could miss out.
Friday, 18th June 2021, 12:27 pm
Updated
Friday, 18th June 2021, 12:30 pm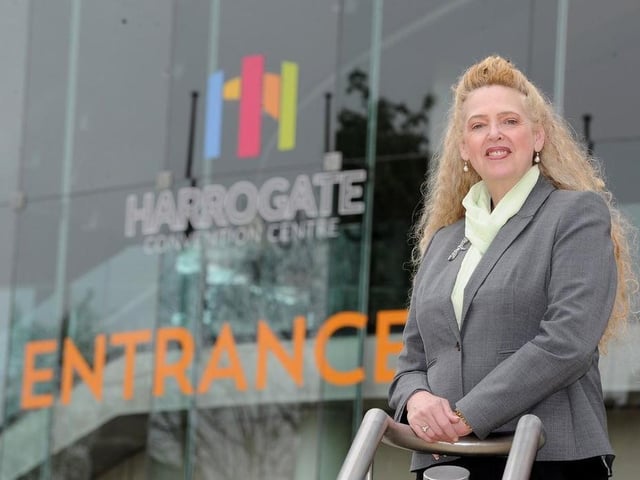 Paula Lorimer pictured outside Harrogate Convention Centre.
Paula Lorimer was questioned by union officials and councillors why the £60,000-a-year role could not be advertised externally but she said this would come at a "huge expense" and that she was "confident" a suitable candidate could be found within.
Speaking at a meeting of Harrogate Borough Council's human resources committee last night, she also said the centre had previously failed to attract the type of external applicants it wanted.
"We have gone out in the past to external but not necessarily with great success," Ms Lorimer said.
"The last time we advertised we had 82 applicants of which we could only put forward two - one had run a racecourse and somebody else had run a museum.
"I wouldn't be submitting this proposal if I didn't feel it would be swift - and certainly we won't be employing anybody that isn't good enough."
The head of operations role is currently filled on a temporary basis by the council's head of culture, tourism and sport, Michael Constantine.
It has responsibilities for overseeing day-to-day operations at the convention centre which has been used as an NHS Nightingale hospital and was due to make a return with events on 21 June before the government extended lockdown by another four weeks.
Trade union officials at Unison Harrogate said they had "very serious" concerns over the approach to filling the role and that they also had not been asked to comment.
In a statement to last night's meeting, Unison said: "To be clear, we support the permanent appointment of a head of operations but do have very serious concerns that the intention is to only advertise a role of that level of authority internally.
"Our expectation and understanding is that the council would seek to widen the recruitment pool for such a high-level role.
"I'm unaware of a situation where a role of this level has exclusively been advertised internally in any of the last 25 years at Harrogate Borough Council."
These concerns were shared by members of the committee who later said they felt assured that if recruiting internally fails, then the role would be advertised elsewhere.
Committee member councillor Graham Swift, who is also deputy leader and cabinet member for resources, enterprise and economic development at the council, said: "I came to this meeting with quite a strong view that we should be recruiting externally but I'm comforted by your assurances that a quick turnaround of internal candidates will either thrill and enlighten us or get us to next base."
Once candidates have been shortlisted, an appointments panel will carry out interviews before selecting someone for the role.
Ms Lorimer added: "We do feel there are a number of candidates that would have the competences to do this.
"I certainly don't think that we would be proposing this route if we weren't confident we had the necessary competences - and that's not something we have been able to say for a long time."
By Jacob Webster, Local Democracy Reporter