Election countdown: Conservative candidate tells Bilton voters to 'judge my record on its own merits'
Conservative candidate Matt Scott has told voters to "judge my record on its own merits" ahead of polling day for the Bilton and Nidd Gorge by-election tomorrow.
Wednesday, 5th May 2021, 9:36 am
Updated
Wednesday, 5th May 2021, 9:38 am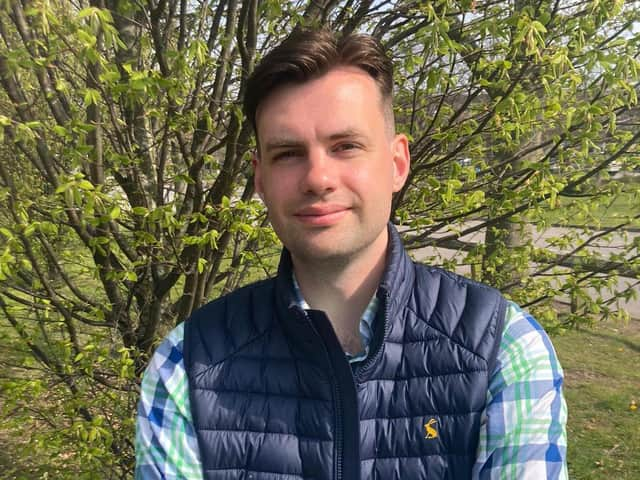 Conservative candidate Matt Scott.
Councillor Scott has represented the Bilton area on Harrogate Borough Council since 2018 and is one of six candidates competing to take the vacant seat on North Yorkshire County Council.
He said: "I have lived in Bilton my entire life which means I use the same roads, shops and all the same council services as local residents - and I'm immensely proud to already represent the community I have grown up in.
"As a Harrogate borough councillor since 2018, I have been handing out newsletters into the Bilton division which set out our record of action locally.
"In addition to the Bilton and Nidd Gorge seat, there is the current Conservative county councillor Paul Haslam who is a sort of next door neighbour to me. We have a great working relationship and I would want that to continue if I was elected."
Councillor Scott, who is employed by MP Andrew Jones as a case worker, added: "I will still be serving as a Harrogate borough councillor if I'm elected and will continue my current top priority of tackling litter. I'm hoping as restrictions ease further, I can organise more outdoor gatherings for litter picking and street cleansing.
"I also know anti-social behaviour has been an issue of late and in my capacity as borough councillor I have worked with safer communities teams on this.
"I'm putting a positive message out there that I will allow residents in my division and the wider Bilton and Nidd Gorge area to judge my record on its own merits."
The by-election is being held following the death of Liberal Democrat councillor Geoff Webber in March.
The other candidates include John Hall (Yorkshire Party), Andrew Kempston-Parkes (Liberal Democrat), Anrold Warneken (Green Party), Tyler Reeton (Labour Party) and Harvey Alexander (Independent).
Voting will take place on Thursday 6 May - the same day that voters will choose a new North Yorkshire Police, Fire and Crime Commissioner with the winners set to be announced the following day.
Voters will be required to bring their own pen or pencil to polling stations, wear a face covering, wash their hands when entering and leaving, and keep a safe distance from others.
People should not attend the polling station if they have symptoms of Covid-19 or if they have been asked to self-isolate. Anyone who cannot because of these reasons has up to 5pm on polling day to apply for an emergency proxy vote.
For more information go to www.harrogate.gov.uk/voting-elections
Meanwhile, there are no full elections being held for all seats on Harrogate Borough Council or North Yorkshire County Council.
This article is part of a series of profile pieces about the by-election candidates. Each profile will be published online in the run-up to polling day.
By Jacob Webster, Local Democracy Reporter