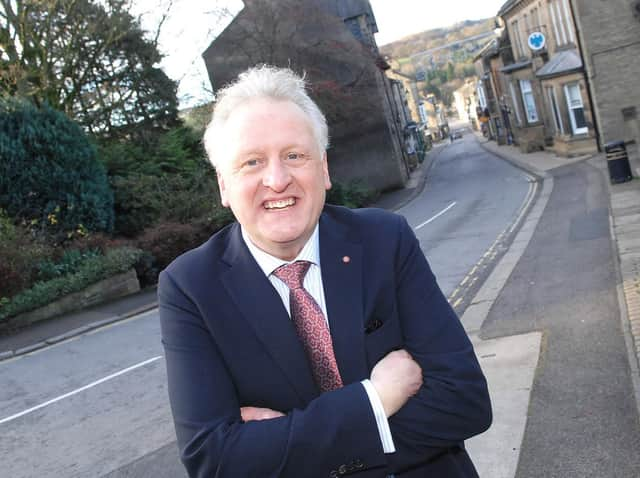 Keith Tordoff MBE, who is running to become North Yorkshire's next Police, Fire and Crime Commissioner.
The man who played a key role in reviving one of the Harrogate district's most historic towns has set himself his biggest challenge yet - running for the job of North Yorkshire PFCC.
Keith Tordoff, 63, who received the MBE from The Queen in 2018 after helping Pateley Bridge triumph in the Great British High Street competition, said his slogan for the potential new role would be "let's get things done."
He said: "I've never stood as an MP - I'm a doer. I believe that will resonate with every police officer and firefighter.
"I have a proven track record of delivering on everything I've said I'd do.
"I'm driven by wanting to see things change and I get very frustrated when people accept things as the norm."
Keith Tordoff's full statement about his nomination
I intend standing as a candidate in the May 2020 election for the PFCC of North Yorkshire a role that I believe should be independent.
I have a background of serving as a police officer in West Yorkshire for 20 years leaving with an exemplary service record. I then went on to work for the Bank of Scotland for 10 years.
On leaving the bank I went to work in our family business the famous Oldest Sweet Shop in Pateley Bridge.
I have been Chair of the Nidderdale Chamber of Trade and the Pateley Bridge in Bloom group helping bring National recognition to the area.
I was awarded the MBE in the Queen's Birthday Honours list in June 2018.
Bringing leadership skills, vision and passion I believe I can work with the Chief Constable and Chief Fire Officer to make North Yorkshire outstanding in every area of the services, protecting the residents and visitors to this amazing County.
The role of PFCC I believe requires heart and soul putting into it - a commitment that I would bring to the role.
As a result of the commitment required with the support of my family we have decided to sell the Oldest Sweet Shop.
If elected l pledge that the Police and Fire services of North Yorkshire will be the best resourced and the benchmark for the rest of the country.
Mr Tordoff's decision to stand follows the announcement last year by current police commissioner Julia Mulligan not to stand again after a series of allegations and controversies.
Mr Tordoff's rivals for the role include Philip Allott, the Conservative Party's nominee.
Mr Allott has already said he aims to introduce "tri-service safety officers," in rural areas where officers would be part first-responder, part reserve firefighter and part Police Community Support Officer, an idea which has been rolled out in other parts of the country.
But Mr Tordoff said, as a man of the community rather than a politician, his emphasis would be on the police tackling crimes that mattered to the public.
He said: "I've worked for the community all my life and I've got something to offer in experience and knowledge.
"Anti-social behaviour, drugs and theft is getting out of hand in towns and villages in North Yorkshire."
Keith served for 20 years in the West Yorkshire Police force in Leeds, moving up the ranks from police constable to detective working in specialist departments before retiring as a senior officer.
The last 25 years have seen Mr Tordoff leading Nidderdale Chamber of Trade and running The Oldest Sweet Shop In The World in Pateley Bridge with his wife Gloria.
He now hopes to sell the shop, which featured in the Guinness World Records, to enable him to devote all his time to becoming North Yorkshire's PFCC.