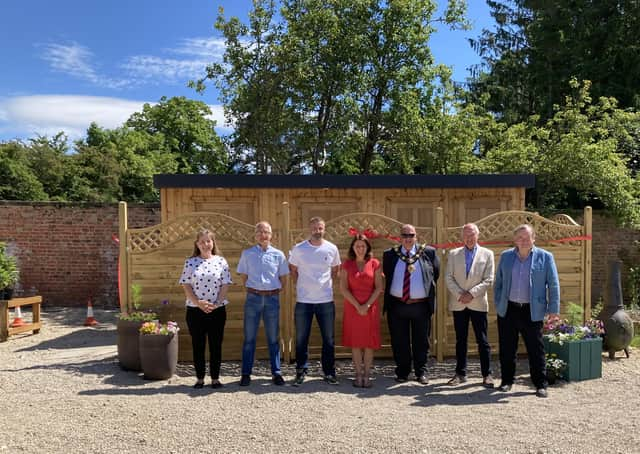 A Ripon learning disability charity is feeling flushed after the successful completion of a fundraising drive which will benefit members, staff and visitors to its popular Walled Garden
Thanks to the generosity of three major donors and individual supporters, Ripon Community Link has installed and opened a new toilet block at the garden, on the edge of the city on Palace Road.
While a local trust funded the building and cess tank installation; James Staveley, the owner of Lightwater Quarries and Concrete 4U - based on the North Stainley estate – provided the concrete base and new stone for the forecourt, and plumbing merchant, Wolseley, donated all the toilets, and internal fixtures and fittings.
Dales Water previously supplied a bore hole giving a reliable water source making this development possible.
Ripon Community Link is a leading provider of innovative day support services for people with learning difficulties, and operates from two sites within the Ripon area, St Wilfrid's Bungalow and Ripon Walled Garden.
Thanks to a comprehensive home support programme, the charity has supported its beneficiaries fully throughout the entire Covid pandemic, and, since November last year, has welcomed its Members back in limited numbers in on-site sessions.
Victoria Ashley, Ripon Community Link Chief Executive, said: "I would like to thank Mr Staveley, Wolseley, and especially the charitable trust which donated the fund for the building, for their combined generosity and support of our charity. Without their support none of this would be possible.
"The pandemic has posed enourmous challenges, including an urgent need for high-quality sanitation and handwashing facilities, which until now we have managed via portable toilets.
"This project will improve the lives of our beneficiaries, and improve the visitor experience for those who we are keen to welcome back to our site."
Mr Staveley said: "I am very happy to be able to show my support for this highly thought of Ripon charity by giving to their latest appeal.
"I've visited the Walled Garden on a number of occasions, and it's a wonderful community asset that benefits disabled people of all ages."
https://www.riponcommunitylink.org/
Fiona Brown of Wolseley said: "As a local company Wolseley is proud to support Ripon Community Link, a local charity which delivers so much to people who deserve access to high quality facilities.
Carolyn Sands, Chair of Trustees said: "This project is a vitally important step forward for the Charity, and we are extremely grateful to all of those that have been able to help us with this major development."