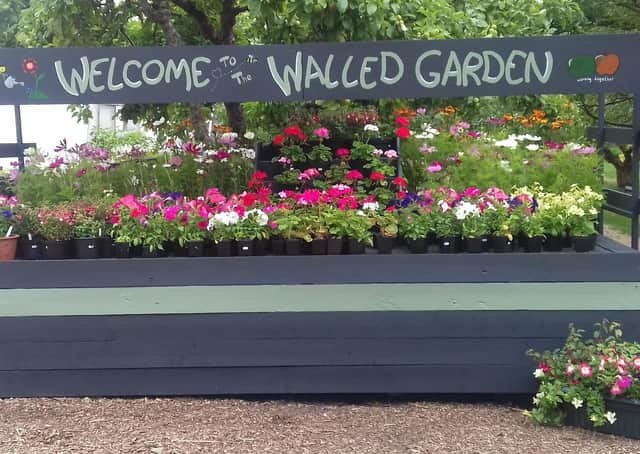 Ripon Community Link relies on the support and dedication of its volunteers to continue the important work it does, particularly during the Covid-19 pandemic.
Victoria Ashley, Ripon Community Link Chief Executive, said: "The pandemic has posed enormous challenges and we are particularly thankful that volunteering has remained a permitted activity during lockdown."
The charity, which provides day support services for Ripon people with learning difficulties, has benefitted from the assistance of individuals and businesses, ensuring its Walled Garden and Victorian Orchard, off Palace Road, are looking superb for its members.
It has been significantly helped by teams from Rudding Park, RAF Menwith Hill and Morrisons, who have worked tirelessly with regular volunteers staff and members, enabling the peaceful, inspiring, woodland to open to the public with accessible paths.
Victoria added: "Our loyal volunteers have either attended the Garden to help ensure that it continues to be well maintained, or continued to support our member activities at their homes or here, on site.
"We are extremely grateful to our volunteers, individual and corporate alike, who are so generous with their time.
"They have brought with them skills we would otherwise need to pay for. Quite simply, we couldn't afford or simply do."
Volunteers have also supported staff and members to nurture and grow an amazing array of bedding plants, hanging baskets, perennials, vegetables and herbs.
The Walled Garden is open Monday to Saturday, 9.30am-4pm for visitors to enjoy the beautiful environment, wander through the Victorian Orchard and explore the newly opened Woodland environment.
All sales from the garden nursery, including produce from the Walled Garden, help pay for Ripon Community Link's running costs.
Carolyn Sands, Chair of Trustees and Volunteer Co-ordinator, said: "The huge benefits of volunteering also extend to the volunteers themselves."
"For those who are isolated, in stressful day jobs or need a sense purpose and connection, being able to help others by continuing with their volunteer work in the beautiful Walled Garden has been a lifeline during these unsettling times."
James King, from Rudding Park, said: "We have a strong charity partnership with Ripon Community Link and support them in many ways; from welcoming their members to enjoy the Golf at Rudding, to fundraising for them.
"It seemed a natural progression that during lockdown, when many of our staff were furloughed, to support the charity in the Woodland redevelopment.
"This has not only helped Ripon Community Link but has helped our staff stay connected, and enjoy the benefits of socially distanced safe contact, in such a beautiful environment."
One volunteer wrote: "This year has been a challenge for all, but the thing that has kept me motivated is being able to come to the Walled Garden and have fun with great members of staff and volunteers, and to Zoom with the Members. I hope that things soon get back to normal. Thanks for the friendship and the fun!"