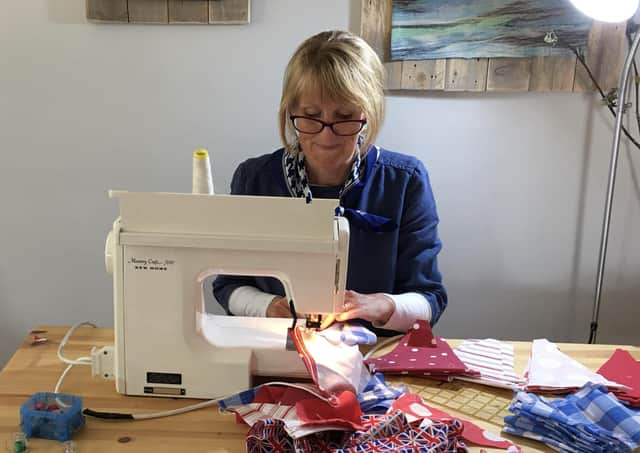 The wife of a former RAF serviceman said she understands the reality of modern-day war and the relief when loved ones come home.
"Although conflicts in Afghanistan and the Gulf didn't impact on home supplies like rationing or bombing in WW2, we all know now what separation from family is like because of Covid-19, said Julie, of Bickerton.
"As a textile artist I have continued to work throughout lockdown and I will be displaying my artwork in the Over the Garden Wall Gallery on VE Day in the hope that people will take a moment, be inspired and go on to inspire others.
"In the true Make do and Mend ethos, I have created blue roses from newspaper and tied them with red and white ribbon for the tea table."
Julie has also been sewing bunting in red white and blue colours.
"Bunting will also adorn a recently renovated BSA bicycle that will lean against our garden wall," she added.
Julie is a member of York Textile Artists and Artists Around Wetherby and was to have shown her work in the Open Studio events that have had to be cancelled or postponed this year.
"Artists around Wetherby are continuing their support of the British legion through donations and decorating gardens," said Julie.
Bickerton will be hosting Stay at Home celebrations and observe a two-minute silence followed by bells being rung at nearby Bilton Church.
Julie, who has been demonstrating screen printing at a distance in an over the garden wall gallery and workshop, added: "At 4pm we will hold a 1940's style afternoon tea in our front gardens."
The artist likes to recycle materials in her work and has used lockdown time to spread the joy of creativity.
"I have taken this time of isolation to sort out and make up some 'bags of creativity' to share with my neighbours who stroll past on their daily walk," added Julie. "You don't need to be an artist to allow yourself to play."