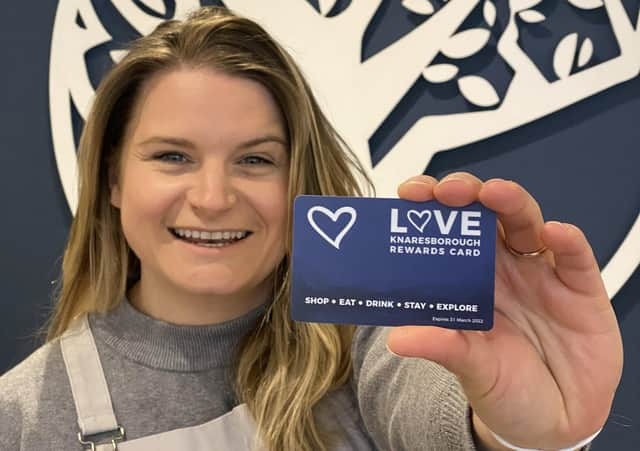 Knaresborough Online hopes its new rewards scheme will boost footfall to the town's traders who have signed up to the project.
Susanna Lewis, owner of Knaresborough Online explained: "The Love Knaresborough Rewards Card scheme is a membership card for residents of Knaresborough and the surrounding area, as well as for visitors and tourists.
"Cardholders will be able to access unlimited rewards, discounts, promotions and special offers in participating shops, cafes, bars, restaurants, accommodation and trades in and around our wonderful town."
The Love Knaresborough Rewards Card has been the brainchild of Knaresborough Online for over a year and with the help of a European Funded Post-Covid Recovery Grant, the project will be launching on Wednesday May 12 at the Wednesday market in Knaresborough.
Susanna added: "We are trying to promote local spending and with such a fantastic range of shops and other businesses in Knaresborough, we believe this card could really help boost footfall and spending within the town.
"Around 13,000 adults live in Knaresborough, so if each of us were to spend just £5 a week in our town, then this would put an additional £3.4 million per year into the local economy."
Knaresborough Online have continued operating during the pandemic, offering free support and help to their members in the form of social media posts, writing press releases for businesses and actively encouraging support.
Susanna added: "We have researched and visited over 30 other similar card schemes within the UK to try to develop the best card scheme."
"We want the scheme to be attractive to both consumers and businesses and we hope the card will help encourage confidence in local shopping once more."
The Love Knaresborough Rewards Card is available to buy from Wednesday May 12 from ten designated sellers across the town, as well as from the Knaresborough Online website.
One of those designated sellers is Alex, owner of The Black Mulberry on Waterside.
Alex said: "As a business owner in Knaresborough I am really excited about this new card scheme.
"It has been a difficult year for us all, but this project gives us positivity and hope for the future.
"Anything that helps increase footfall through the town is welcome and I am excited to see the launch of this card."
The card will cost £10 to buy and is valid until March 31 2022.