Safety fears for Harrogate pedestrians resurface as Bogs Lane prepares to open up to car traffic after 12 months
New safety fears have been voiced in one of Harrogate's most contentious neighbourhoods for new housing.
Watch more of our videos on Shots! 
and live on Freeview channel 276
Visit Shots! now
Plans to reopen Bogs Lane to through-traffic in Harrogate after 12 months may sound like good news for drivers but residents in living an area saturated by new housing developments remain anxious over the safety of pedestrians.
Introduced in November 2022 to allow Redrow, one of the largest housebuilders in the UK, to begin work in earnest on a new 133-home housing scheme called Kingsley Manor, the road closure is now set to be lifted in November.
But members of Kingsley Ward Action Group (KWAG), which has been protesting about the sheer number of new housing developments in the area since August 2019, say, despite progress being made in theory, there is little hope of a permanent new walking route being built before cars start steaming through Bogs Lane, which becomes Kingsley Road beyond the railway bridge.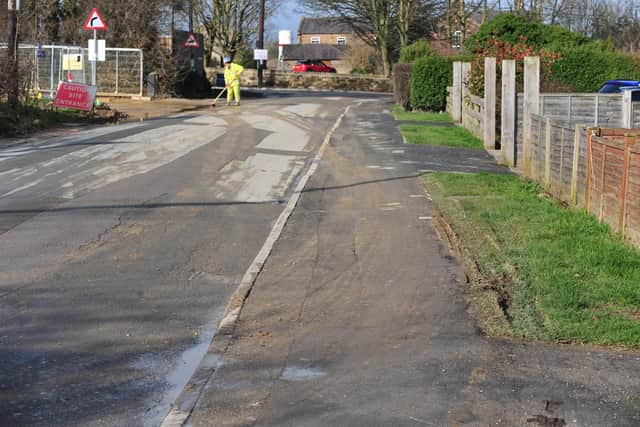 Gary Tremble, who lives on Kingsley Road, has long complained about the lack of infrastructure accompanying housing developments, as well as the miserable toll of noise, dirt and heavy lorries on the lives of residents.
He believes the key obstacle to solving the problem of pedestrian safety, which all sides agree is necessary, is the railway bridge which has always lacked a footpath.
Local residents labelled it as an "accident waiting to happen" even before the recent explosion of housing in the Kingsley Road and Bogs Lane area.
Now, after the building of approximately 600 new homes in total and the accompanying growth in local population numbers, how pedestrians get across the narrow bridge safely sharing the same space as cars has become a major worry.
Mr Tremble said: "The highways authority, North Yorkshire Council has plans for a footway along Bogs Lane from the access point to the Redrow housing scheme down to the garage before the bridge.
"It says it is working toward construction commencing on this prior to the road re-opening.
"But discussions about the railway bridge, which is a Network Rail asset, have been ongoing for over 18 months.
"Originally, another builder in the area, Barratt Homes had a S278 obligation to provide a footway along Bogs Lane.
"Proposals were agreed in 2018 but, due to technical constraints, these proposals were not able to move forward.
"The construction of the footway over the railway bridge remains key to the whole path."
The highways authority is hoping to sort all this out before Bogs Lane reopens to vehicular traffic in November.
Should this prove ambitious, then temporary traffic management would have to be installed once again until completion of the footpath.
The forthcoming reopening of the road will mean drivers living on Kingsley Road will no longer have to make an inconvenient 1.4-mile detour via the busy Knaresborough Road (A59) to access Bogs Lane.
But Mr Tremble argues there is an alternative course of action to all of the above.
"A long term closure of Bogs Lane at the bridge and having access only for pedestrians and cyclists would vastly improve safety.
"It would also stop Bogs Lane being used by drivers as a rat run to Kingsley and up to the Granby area to avoid bumper to bumper traffic on Knaresborough Road."
The Harrogate Advertiser has asked North Yorkshire Council for a comment.