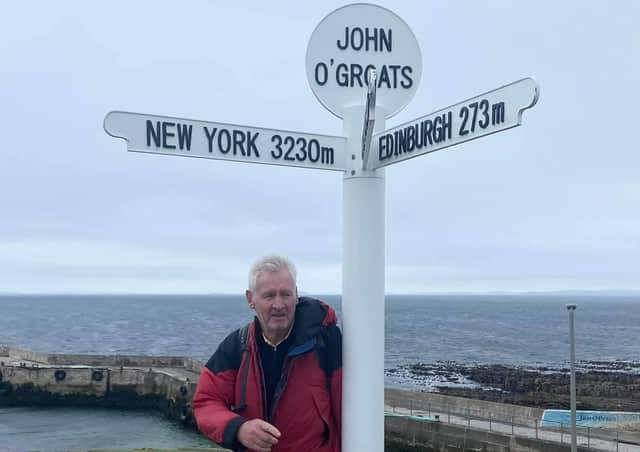 Tony Hennigan, 70, who has completed the Lands End to John O'Groats challenge for Sue Ryder Manorlands Hospice.
Tony Hennigan, who lives in Staveley near Knaresborough, embarked on the walking adventure to mark his 70th birthday and crossed the finish line in John O'Groats on Thursday 24 June, 56 days after setting off from Land's End.
Tony said: "It's been an immensely uplifting and exhilarating experience.
"There have been many highs and a few lows on this journey but I have been overwhelmed by the support, kindness, goodness and generosity of so many people I've met along the way."
This is the third time Tony has completed the challenging 1,000-mile trek for charity and it follows previous expeditions for his 50th and 60th birthdays.
He completed his 70th birthday walk four days faster than his 2001 walk at the age of 50.
Since setting off from Cornwall at the end of April, Tony has walked an average of 18 miles a day in all weather conditions, travelling along many famous UK walking routes, including the Great Glen Way and the West Highland Way.
Throughout the journey he has been entirely self-sufficient, refusing lifts and public transport and carrying all his belongings in one rucksack.
All money raised from Tony's walk will go to Sue Ryder Manorlands Hospice in Oxenhope, which provides expert palliative care, advice and support to people living with life-limiting conditions, as well as supporting their families.
"I'd like to say a big thank you to everyone who has kindly contributed to my fundraising total.
"I set off with a fundraising target of £3,000, so the amount raised has exceeded my wildest expectations.
"I hope it will help the hospice continue to improve the quality of life for people at times of crisis and upset in their lives."
Hayley Ibbotson, Senior Community Fundraiser at Sue Ryder Manorlands Hospice, said: "We've been closely following Tony's progress over the past few months and we're completely in awe of the commitment and determination he's shown in completing this incredible challenge.
"The amazing funds that he has raised will make a huge difference in helping us continue to be there when it matters for patients and their families."
Donate to Tony's fundraising page, at: justgiving.com/fundraising/anthony-hennigan