"One little girl asked me, is my heart still broken?"- Lauren Doherty's Road Safety Talks mark seventh year at Dacre Braithwaite Primary School
A Knaresborough woman has spoken to the Harrogate Advertiser about the life-changing accident that left her paralysed when she was just 19, and the inspiring road safety message that she now delivers to children across the country
Watch more of our videos on Shots! 
and live on Freeview channel 276
Visit Shots! now
Natasha Audsley interviewed Lauren Doherty, the founder of award-winning Road Safety Talks, on her annual return to Dacre Braithwaite Primary, in Nidderdale.
This year marked her seventh year reaching thousands of children and raising awareness of road safety through TV, radio, and social media.
For those who don't know, on August 15, 2009, on a night out like any other carefree teenager, one tragic accident left her completely paralysed.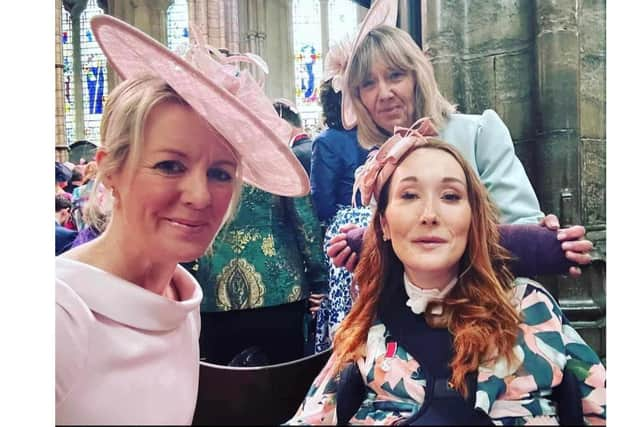 Lauren's entire future changed after letting her attention slip for just one moment.
Incredibly, instead of giving up, Lauren found a way to accept her situation and use her story to inspire others.
The message has become one of a woman who took control of her voice and realised the impact she could make.
Sitting next to Lauren, you get the sense you are in the presence of someone of immense bravery, whose infectious personality exudes fearless determination, honesty and unbelievable compassion.
All of which made me nervous, I'd say something stupid. A feeling she instantly dissolved.
Alongside her project manager and good friend, Rececca Brunstone, she said: "I wanted to speak to children about how not to end up like I did.
"I had no idea how, I just knew that I wanted to do it.
"Teachers and police officers can talk to kids about road safety much the same.
"When you have me sitting in front of them, having help with my drink, the impact is stronger.
"If you don't take care on the road this could be the result.
Mrs Brunstone said: "Out of adversity comes opportunity, and it really has done here.
"Lauren doesn't do this for the fans, the praise or the accolades, it takes a lot of courage to share your life story, your fears and emotions.
"When she's speaking everyone is so still you could hear a pin drop.
"They think, wow, this is a serious message.
"The reality that life can change in a split second."
Lauren's personal approach makes her vulnerable, answering questions difficult to relive, talking over horrific details to big audiences - a remarkable achievement.
Miss Doherty said: "The children ask innocent questions like 'what's that thing on her neck?'
"Adults try to stop them but I say no, it's ok.
"One little girl asked me, is my heart still broken?
"If they want to ask me the name of my dog or how I go to the loo, that's fine, if that's what they remember then that's fine with me.
"If I can save one life it's been worth it."
Her normally humble manner allowed for a brief glimpse of pride when I noted her British Empire Medal.
Not without her struggles, Lauren is now 35, a professional young woman who found purpose and shared her life force.
She said: "Before we started Road Safety talks I'd spend days in bed, or go shopping, it didn't feel like there was anything to get up for.
"As much as the talks have done so much for the community, it has done so much for me as well."