Northern Rail plea for calm ahead of Christmas as more Harrogate trains are cancelled
Northern Rail bosses have urged customers not to take out their frustrations on staff after a number of violent threats were made on Twitter.
Tuesday, 24th December 2019, 8:25 pm
Updated
Tuesday, 24th December 2019, 8:26 pm
As cancellations and delays continue on the Harrogate lines, Northern Rail has asked people not to resort to violence despite facing difficult travel conditions this festive season.
The plea comes after what Northern says has been an escalation in abusive messages on social media, threatening to harm staff.
And last week the threats were taken away from the keyboard and brought face-to-face, as a passenger at Manchester Victoria is said to have threatened to attack a Northern employee.
Her colleagues walked out of work after the incident, which resulted in several trains being delayed or cancelled.
A spokesperson for Northern said: "Recently we have really noticed an increase in these kinds of threats and it just isn't acceptable. The threats have been shocking - there have been messages threatening to throw staff under moving trains and even to bomb our headquarters.
"We understand people are frustrated but they need to understand that there are lines that just cannot be crossed. Our people have the right to work in a safe environment and we will continue to work with British Transport Police to ensure this is the case and, where appropriate, to take action against those who behave in an aggressive or violent manner."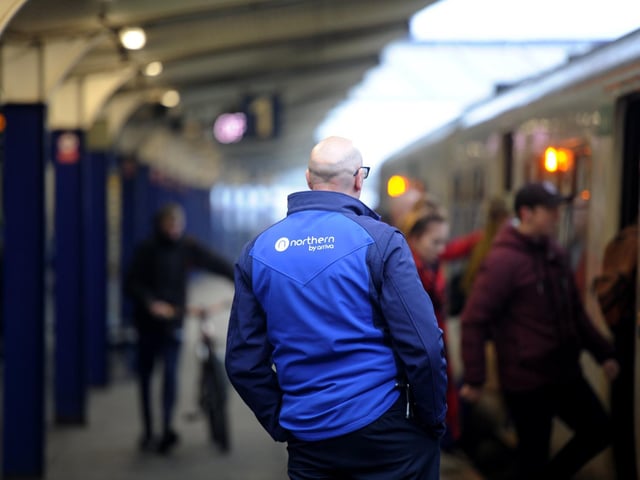 Northern Rail has asked for patience and understanding from customers frustrated at the on-going issues with their trains service.
The Harrogate Advertiser has recently highlighted the plight of the town's poor rail links with a troubled service operating between York and Leeds.
Problems with cancelled services and late-running trains have plagued the line which connects the two main cities via Harrogate, Pannal, Starbeck and Knaresborough.
The message from Northern Rail, however, is an important one especially as trains will stop running between Harrogate and Leeds for four days after Christmas.
Engineering work on the line means there will be no trains between Harrogate and Leeds on the 27th. 28th and 29th of December - on top of all rail services already being cancelled on Boxing Day.
But not to fear - bus operator The Harrogate Bus Company is planning extra services to make sure everyone can visit friends and family, or shop until they drop at the sales.
The 36 bus will be running to a special timetable on Boxing Day, with a bus every half hour to and from Leeds and an hourly service for Ripon across the daytime.
The Harrogate Bus Company's General Manager Frank Stanisauskis said: "There's no need to be caught out by cancelled trains after Christmas when our amazing 36 bus will be keeping our region on the move.
"Our customers will be sitting back on first-class leather seats, staying connected on our free 4G Wi-Fi, charged up with USB power at every seat, and chauffeur driven safely to their destination.
"We've prepared a special guide to amazing winter days out across Yorkshire using our bus services, filled with ideas for days out - it's available free on our buses and online.
A full breakdown of the extra services can be found on the Harrogate Advertiser website (www.harrogateadvertiser.co.uk).