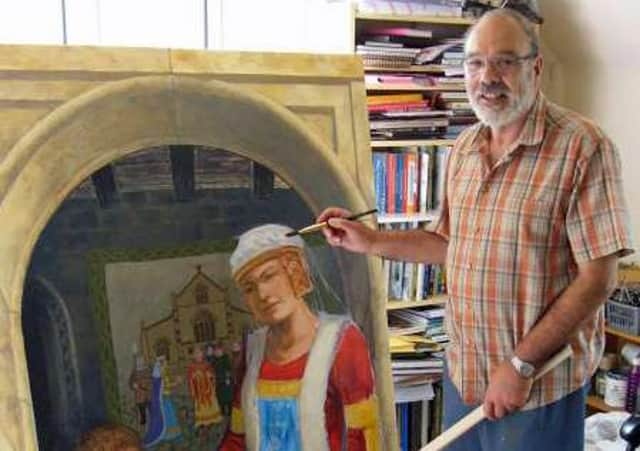 But the chairman of the volunteer committee behind the plans to turn the ground floor of the former Castle Girls School into a museum, says she remains optimistic. Kathy Allday said: "We've had an incredible response. The total to date stands at more than £20.000.
"At this point I am incredibly optimistic the plans will be able to proceed, and that the additional money will be secured over the next few weeks."
She said that actor Jim Carter had recorded the voiceover for the fundraising film and Sir Graham Hall kick-started the fundraising with a £5,000 pledge.
"Since then a number of groups and individuals have donated," added Kathy.
"We've had lovely comments from Andrew Jones MP and several local councillors and Postman Pat illustrator, Ray Mutimer, has also stated his support."
She added that various businesses, several school and the Chamber of Trade had supported the appeal.
Kathy added: "What's more, The George Moore Foundation is currently considering financing our vision, and Newcastle Professor, James Gerrard, is keen to work with us and share his fabulous research on locally discovered Roman artefacts."
"We recognise these are difficult times, and we are so incredibly grateful for everyone's enthusiasm and support."
Knaresborough Museum Association said the facility will tell the stories of the town and its people, with interactive displays, creative exhibitions, expert insights, and specially curated displays.
Lease negotiations are currently taking place with Harrogate Borough Council.
And a pre-planning application has been submitted for a glass foyer entrance, to allow access for those with mobility issues.
Kathy added: "We are ambitious, and Knaresborough Museum will quickly become a valuable asset to our town and tourism offer, enriching the experiences of visitors, inspiring our local community, and enhancing the education of our children."
https://www.crowdfunder.co.uk/help-us-make-a-new-museum-for-knaresborough
Kathy added: "We are incredibly excited to work alongside Knaresborough Castle and the Courthouse Museum, creating a wonderful cultural quarter for Knaresborough.
"If you've been considering making a donation, please consider doing so as part of our final push this week."
Donations by cheque, made payable to Knaresborough Museum Association, should be sent to: c/o 25 Tentergate Road, Knaresborough HG5 9BG.
Or donate by bank transfer to Knaresborough Museum Association, account 20432881, sort code 60-83-01