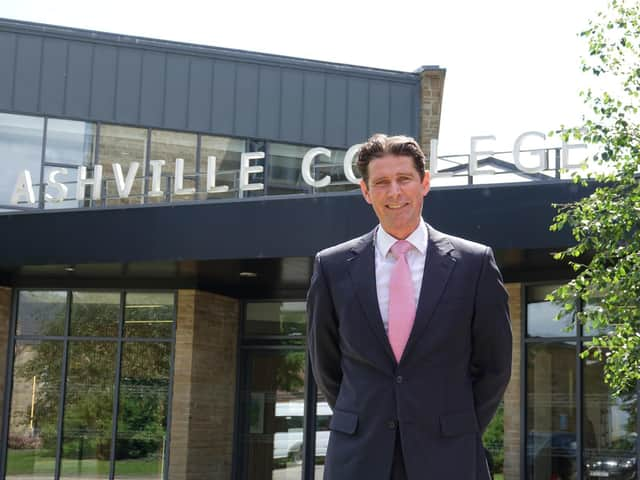 Headmaster of Ashville College, Richard Marshall, has passed away aged 48.
Mr Marshall, who had three young children, took over the headship at the Harrogate-based independent school three years ago.
The college confirmed his passing on Twitter, posting: "We are mourning the death of our headmaster, Mr Richard Marshall. He was proud to be our Headmaster and we were honoured to have welcomed him into the Ashville community. The College thrived under his headship and our thoughts are with his family at this time."
He was the tenth person to hold the position in the school's history and his wife, Kym, joined the teaching staff alongside him while their children Ethan, Emily and Harry became Ashville pupils.
Mrs Marshall is currently deputy head of the prep school.
Ashville's chair of governors Jamie Search described Mr Marshall as an 'outstanding leader who has been tragically taken from us far too early' and acting head Elspeth Fisher said it was 'an incredibly sad day for Ashville College and the wider Ashville family'.
A fundraiser for Saint Michael's Hospice has now been started in his honour, after the charity provided support for the Marshall family.
A statement on the Just Giving page says he was "much-loved by staff, pupils and parents alike" due to his "energy, astuteness and emotional intelligence".
Mr Search added: "Richard joined Ashville following a rigorous interview process and was the unanimous choice of the governing body. That decision proved to be the right one as from the outset he fully immersed himself in Ashville life and focused on the education of our pupils.
"He brought a drive and determination to improve all aspects of Ashville. As a scientist he loved technology and data and the level of detail he delved into was immense, for the betterment of every pupil.
"All here at Ashville are absolutely devastated and we will continue to support Kym and the children in any way we can."
To donate, visit www.justgiving.com/fundraising/richard-marshall-headmaster