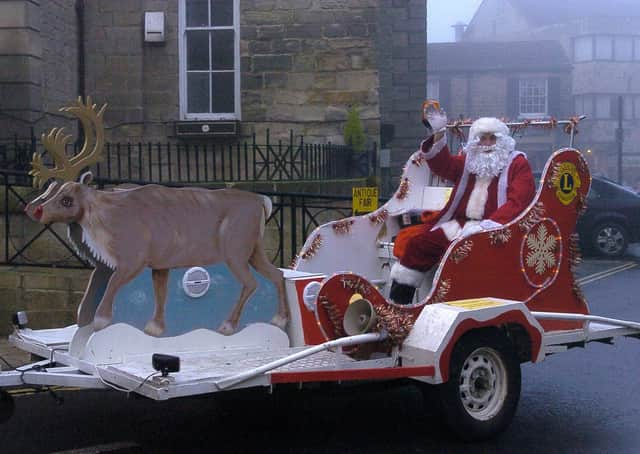 Santa on the Wetherby Lions sleigh at a past event.
Like all other organisations, the Lions have been severely restricted in their operations due to the pandemic.
Lions President Tim Ritson said: "It has been a difficult year to say the least. We're urging caution because we want to see everyone keeping well but despite that we do hope there's much joy and happiness around at Christmas and we're doing our best to ensure that happens.
"As an organisation the Lions like to put smiles on faces and it is to that end that we must send our heartfelt thanks to all the individuals and businesses for their collaborations."
But much has been going on behind the scenes to ensure that their input to the welfare and benefit of the town has been as fulsome as possible.
Food hampers for 32 families are being arranged by John Trower of Old Men's Parliament, and Dean Buckle (Bike Shack). The project involves Wetherby District Lions, Manning Stainton (Estate Agents), Morrison's and The Oven Door.
And 40 meals for the town's carers are being supplied by Wetherby District Lions and Alan Lamb's The Bay Horse at Kirk Deighton and The Fox & Hounds at Walton.
There are high hopes that the Lions' much-loved Santa's Sleigh journeys can operate in December, with restrictions which mean that children will have to wave at Santa from their doorsteps or windows and no bucket collections, which would ordinarily have funded the old folks' Christmas party. Contributions can be made through the Lions' https://biot.ly/37FZQbF-Lions
There's a competition for children with painting and Name the Reindeer competitions involving primary schools, Bon Bons and Morrison's.
Santa's sleigh, meanwhile, is slated to be resident at Morrison's on December 12 and 19.
A toys for children initiative is being organised through Wetherby District Lions, the Salvation Army and Morrison's.