Latest General Election seat projection shows 'Lib Dems set to win Harrogate & Knaresborough' but MP hits back
Harrogate and Knaresborough Lib Dems claim they are now on course to beat Andrew Jones MP at the next election – and they add they've got the poll analysis to prove it.
Watch more of our videos on Shots! 
and live on Freeview channel 276
Visit Shots! now
ElectionMaps UK, one of the UK's largest poll aggregators, have released their latest General Election projection for next year based on the new updated parliamentary constituency boundaries.
The new projection shows that the Liberal Democrats are set to win back Harrogate and Knaresborough, which Phil Willis held until he stepped down in 2010, though Harrogate's sitting Tory MP rejects this.
Commenting Tom Gordon, Lib Dem parliamentary candidate for Harrogate and Knaresborough, said: "Since I was selected as candidate earlier this year, the local Lib Dem team and I have continued to build on the success of last years fantastic local elections results - where we won the local popular vote and a majority of local councillors.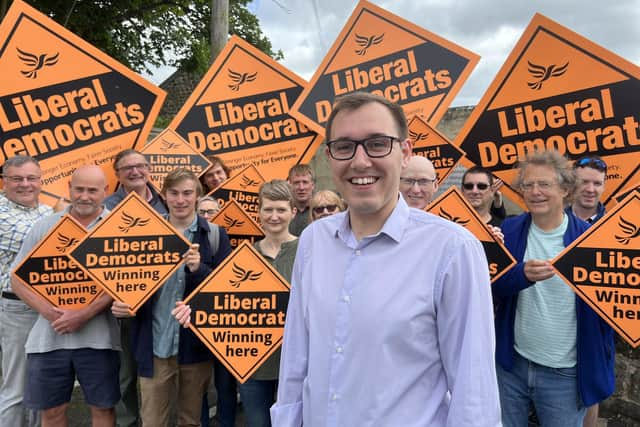 "We have volunteers out knocking on doors and delivering leaflets almost every day.
"It is clear that our message is resonating.
"Local people are crying out for change and MP who will stand up for our local NHS, help tackle the cost of living, and stop sewage being dumped in our rivers.
"Earlier this year, a document described this area as a "non-priority" for the Labour Party.
"People know that when the next General Election comes only the Liberal Democrats can beat the Conservatives in our area."
Harrogate and Knaresborough MP Andrew Jones has held the seat for the Tories since 2010, winning four elections in a row..
His majority in the 2019 general election was 9,675 with 52.6% of the votes cast.
Mr Jones reacted to the Lib Dems' electoral claims by saying: "It is very easy to choose a source that suits your own narrative – in this case a website run by an unidentified student.
"Other sites such as Electoral Calculus tell a different story and give the rationale and workings behind their prediction.
"I am happy to wait for the result of the election itself.
"I've never taken people's votes for granted – people's support needs to be earned.
"Up until then, and if the public choose beyond, I will continue speaking out for our area, getting things done locally and helping people with their problems."
The Lib Dems say the new Nowcast poll result was released on 31/08/23, and shows the Lib Dems set to gain Harrogate & Knaresborough, winning 37.9% of the vote, while the Conservatives are set to drop to 33.9% (down 18.3% on 2019).
The Nowcast model is based on recent Great Britain wide polling, as well as Scottish and Welsh only polling.
Data is from all published polls from British Polling Council members over a given month, with polls weighted by recency as well as historic accuracy.