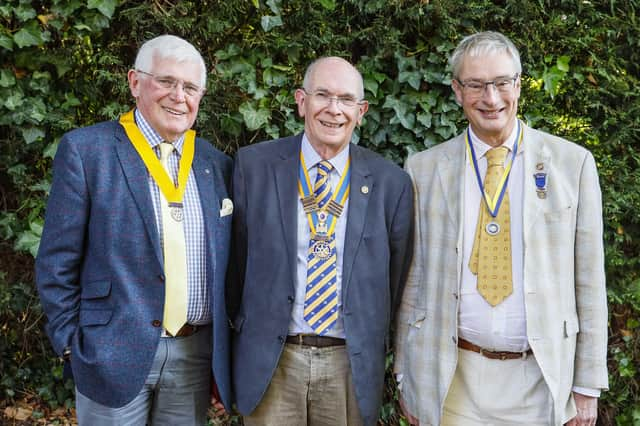 David Kaye, a Rotarian for 37 years has taken over from David Druett, and will oversee the club's 60th anniversary celebrations.
Rotarian Brian Souter said: "In 2009 David moved to Knaresborough Rotary Club, where in recent years he has taken on the full might of Harrogate Borough Council to ensure the success of installing the commemorative Maundy stone on the Castle top, a wonderful achievement personally and for the club.
"He has also been the link and club organiser for the Knaresborough Bed Race for many years, working closely with the Lions ensuring Rotary's vital involvement continues.
"In 2021 he was awarded a Paul Harris Fellowship, the highest personal Rotary Award."
After leaving school David joined the family funeral directing business in Leeds.
After qualifying in 1969, he was admitted into membership of the British Institute of Embalmers (BIE) the following year.
The funeral business was sold in 1988 and David established a commercial property business.
He also kept a link to his past by taking the role of Institute Editor for the BIE, a role he kept for many years and only retired from it to acquire the industry's only subscription independent monthly publication, the Funeral Service Journal, which he ran until 2010.
In 1994 he was invited to become a Trustee of the BIE and, after 16 years as the Trust secretary, he became the Chairman this year. In 1996 he became a Fellow of the BIE for services to the Institute.
Having previously been Chairman of PhysioNet, in March, David agreed to return as Interim Chairman after the sudden death of Mike Adams, who had succeeded him as Chairman.
David has been married to Valerie since 1971 and they have worked together on most projects.
They have two children, Helen and Robert.