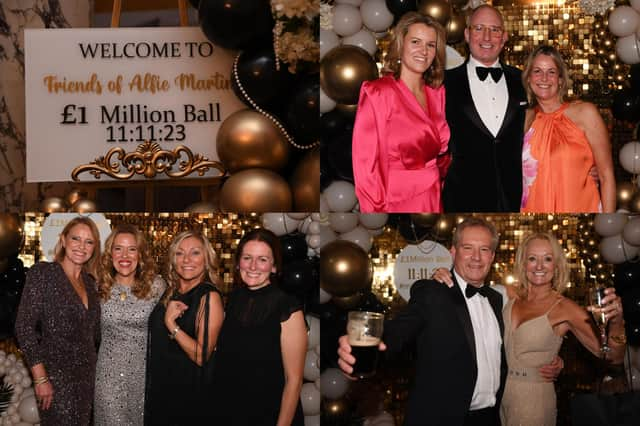 IN PICTURES: Here are 29 photos of people enjoying a fantastic evening at The Friends of Alfie Martin Ball in Harrogate
The Friends of Alfie Martin charity ball held at the DoubleTree by Hilton Harrogate Majestic Hotel has raised an impressive £75,000 to help sick babies across Yorkshire.
Published 20th Nov 2023, 15:08 GMT
Updated 20th Nov 2023, 15:10 GMT
Over 300 guests attended the ball where they enjoyed a drinks reception with canapes, followed by a delicious three-course meal and a packed evening full of entertainment, including live music, silent auction, dancers and much more.
The Friends of Alfie Martin charity raises funds to purchase much needed state-of-the-art life-altering and life-saving medical equipment for the Leeds Centre for Newborn Care, which looks after the sickest newborn babies from across Yorkshire.
Approximately 1,600 babies are treated at the centre each year.
The charity, which is in its 21st year, is working extremely hard to reach a staggering fundraising target of £1 million and the ball itself raised over £75,000, taking them a big step closer to their target.
Through the hard work of the committee past and present, and the generosity of so many kind people, Friends of Alfie Martin has become the largest single donor to newborn intensive care across the Yorkshire region.
Fiona Martin said: "What an incredible evening with an electric atmosphere for Alfie's charity.
"The love and support for Alfie's charity is overwhelming and so was the amount raised.
"We are so proud and grateful to our amazing supporters and with their support we can continue to make a huge difference to the care of critically sick babies across the Yorkshire region."