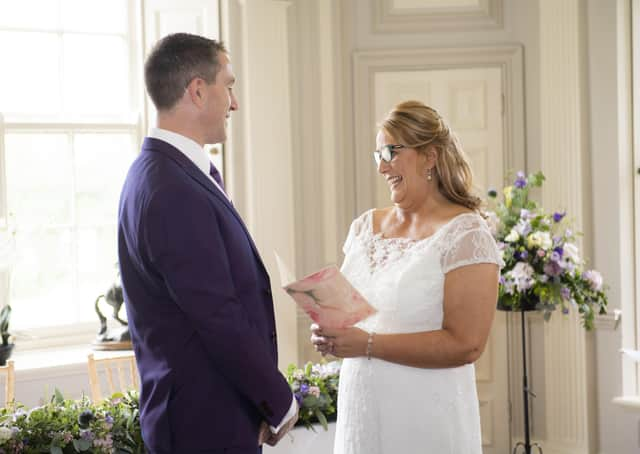 Dan and Sheila Turner
Harrogate celebrant Rachael Meyer, Knaresborough-based Cate Quinn and Andrew Ison and Pateley Bridge based Shirley Gaston are all wedding celebrants who are accredited to write and conduct weddings and vow renewals by the national charity Humanists UK.
Rachael Meyer said: "Many couples have had to postpone their big weddings this year but have gone ahead with a basic legal marriage ceremony with a view to planning a big celebration with family and friends next year.
"Having a re-wedding with a highly personalised humanist vow renewal ceremony is the perfect way to involve your guests in the celebration of love and marriage!
"After all the hardship of 2020 with the coronavirus and lockdown, a focus on celebrating love is more important than ever.
"For whatever reason, a humanist wedding vow renewal ceremony is a beautiful way to declare your love all over again, look back at your story and make new commitments to one another again for the future."
Cate Quinn added: "Sometimes couples wish their original wedding day had been different for any number of reasons and a vow renewal ceremony can be especially meaningful and signify a new phase of their relationship, which they want to mark with a celebration.
"Others may wish to renew their vows to coincide with a special wedding anniversary.
"A fabulous personalised vow renewal ceremony gives them the perfect vehicle to have the wedding day of their dreams."
Humanist CeremoniesTM celebrant Ed Petrie, best known for his TV role as the presenter of CBBC show 'Marrying Mum and Dad' said: "So much has changed in the UK as a consequence of the coronavirus pandemic, and many of us have been reevaluating what's most important in our lives.
"Relationships have particularly come under pressure during the lockdown and, through humanist ceremonies, we want to offer people a way of celebrating their marriage and ongoing commitment to one another."
He added: "After so much sadness, it's now the perfect time for people to celebrate."