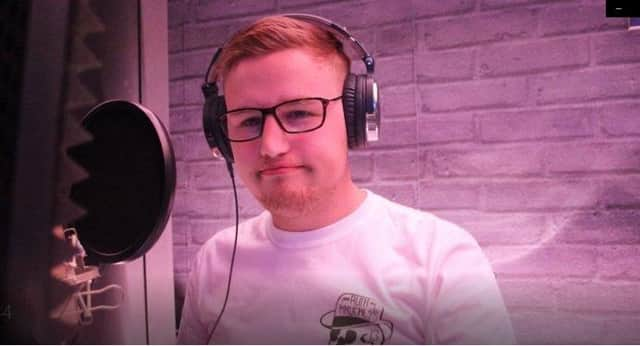 Sam Mackenzie, from Jennyfields in Harrogate, is asking people to download his song Jupiter and Mars which came out on June 6. His first single, Souls Collide, was in the Top four on the Amazon Download charts and in the top 100 for four weeks.
Sam, who works as a special needs teaching assistant at Rossett School in Harrogate, has how been told that if he gets enough digital downloads for Jupiter and Mars that he will be given a contract.
The 22-year-old said: "As much as I love my job, singing is my dream. Music is my love and passion, I have always sung. I used to get bullied at school but then I joined the Harrogate Phoenix Players on a whim. Within a few weeks I had secured the male lead in their show.
"Being part of the society has really helped and given me the confidence to go for what I want. A recording contract is my dream.
"So far the single downloads are going well and I've had some really good feedback. This new single Jupiter & Mars has been an amazing experience to record as it is a different type of song to what you would normally hear from me."
Sam also enjoys sharing his music with the children at work. He said: "What I love the most is that I am able to show the students that if you work hard, no matter what is put in the way, you can achieve your dreams and goals.
"The kids love listening to my music and often play it.
"As a special needs TA you work with students on a daily basis who feel as if they can't live up to anything because they have different barriers in the way.
"This is why I love what I do as I am able to show them that they can achieve and excel. I suffer from dyslexia and I let this rule my life, it kept me from pushing myself. This effected me massively and I was later diagnosed with anxiety and depression - now I use this experience to help the students going through similar issues."
All the proceeds from Souls Collide is being donated to Rossett schools' SEND (Special Educational Needs Department) and Harrogate Phoenix Players. Sam added: "Both of these causes mean a lot to me and will benefit from any help."
To download the new single, visit: amzn.to/3xJ8Ru6.