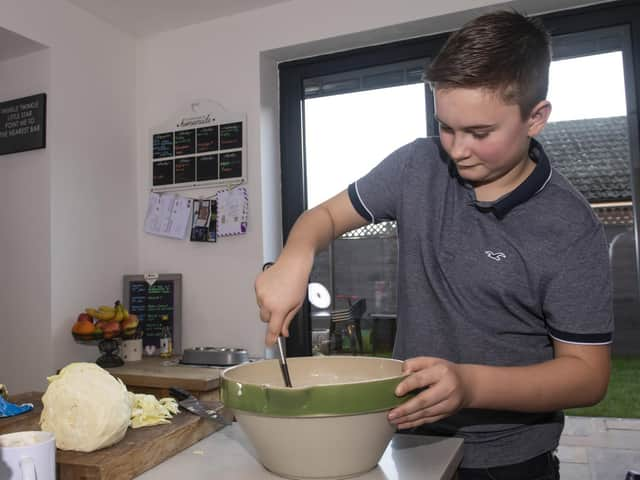 12-year-old Will Lear cooks for those at Harrogate Homeless Project.
Just a little bit of kindness has an enormous power to lift spirits, bring our communities together, and showcase the very best of human nature.
It also brings a plethora of proven health benefits - simply knowing that someone cares can give a great boost to our self-esteem and sense of wellbeing, and for the bearer of kindness, there is a tremendous feel-good factor too.
Being kind comes naturally to the Harrogate district and residents right across North Yorkshire, and we want to celebrate the strength of this important and life-changing social norm.
The Harrogate Advertiser, in partnership with North Yorkshire County Council and sister JPI Media titles in Yorkshire, has launched a major year-long campaign called Salt of the Earth, which will share inspiring stories and examples of the very easy but meaningful ways that we can all make somebody's day brighter just by showing some kindness.
We don't all have the time to sign up to volunteer for a charity or community group on a formal basis, as much as we might like to, due to there being so many demands and pressures on our time - which is why Salt of the Earth is focused on the everyday ways we can all help one another.
Going the extra mile for somebody is a lovely thing to do, but equally, it is the small, natural gestures of kindness that create such a lasting impact too.
Let's work together to inspire even more people to make a difference, and show just how kind our amazing county is.
In the second week of our Salt of the Earth campaign, we meet Will, a community-minded 12-year-old from Ripon who channels his burning passion for cooking into warming the stomachs - and spirits - of the homeless.
No matter how young you are, you could make a difference that lasts a lifetime, as Ripon Grammar School student Will Lear has shown with his kind-hearted initiative to help homeless people in the Harrogate district.
Will loves cooking, and it was while he was cooking up a storm practising for a junior bake-off competition that he first had the idea of providing home-cooked meals for the residents of Harrogate Homeless Project's hostel.
So passionate is Will about perfecting his dishes, that he was frequently left with surplus food to use up.
Not wanting to see anything go to waste, and now cooking even more to meet demand, Will visits the hostel once a fortnight to drop off a tempting array of homely treats, and the residents enjoy them so much that they've been known to make special requests.
Cooking is something that Will does all the time - something he loves and enjoys as part of his everyday routines. It's a gift that comes naturally to him, and now Will is sharing this gift to benefit others.
For hostel residents who are going through a difficult time and have found themselves losing home comforts, Will's meals have been a real tonic.
One resident said: "Will is a lovely young man, and I find it very humbling that he would take time out of his daily activities to help the homeless project. All of his food is delicious, and he's a credit to his parents."
Another said: "Will's food is very lovely. It makes me feel warm in the heart that he does it. I think that it's brilliant that he goes out of his way to help the homeless."
Will hopes his taste of home has helped residents, even if it's just bringing a smile to their faces for that moment.
He said: "Hopefully it makes them feel more at home and like a family, having home-cooked meals.
"I think being kind nowadays is very important, because there are more people struggling in the world. Even if it's just a smile, other people smile back, and you feel happier. I also think it is very easy to be kind - if someone has got a hobby and likes to do something, they can share it and help others.
"Small gestures go a long way, it doesn't have to be something big. If no one does anything, people won't get anything. But if a few people do little things, it adds up to a lot."
The chief executive of Harrogate Homeless Project, Liz Hancock, said Will's dishes have been a lifeline for residents who have felt socially isolated by their circumstances.
She said: "Being homeless can be daunting, intimidating and incredibly stressful. At Harrogate Homeless Project we aim to provide a friendly, supportive environment to help our clients get back on their feet.
"Will's donations of lovely home-cooked food helps us to help our clients feel cared for and well fed, and it's fantastic that Will is prepared to go out of his way to help. Our clients can feel socially isolated by their circumstances, and gestures like this go a long way in helping them feel valued. All of Will's meals go down a treat with our clients and are always very well received."
Will wants to continue cooking for the homeless throughout his life, and has ambitions to be a chef. Not only does his kindness help others, it enables him to develop his skills and pursue a dream job.
Will said: "It makes me feel more refreshed, I feel better that I have helped someone out.
"When I am cooking I am in my own zone, I like being creative. Most of the people at Harrogate Homeless Project ask for special requests, things like quiches, croissants and pastries. I make pasta dishes and curries, stuff that is more like a home-cooked meal instead of easy food like takeaways.
"They've said my food tastes really good. Residents have said it cheers them up, and they are thankful for it. I think it's very important that in whatever you do, you try and spread positivity."
Will's proud mum Ellie said that despite the negative stereotypes young people can face, it is often this age group that leads the way in showing kindness. She said she would love to see more inspiring children and teens sharing the inspiring things they do in the Salt of the Earth campaign.
She said: "Young people can show the adults how it's done. It doesn't take a lot to be kind, just a little bit of extra thought is all it takes.
"And it can easily fit around your own timetable - when Will first came up with the idea to do the meals, we talked about how much time he would have to do it with all the activities he does, but we said that whatever he can give is better than doing nothing at all.
"It doesn't cost anything to be kind, and if you want to do it, you've always got time."
In a demonstration of the ripple effect that kindness can have, Ellie said Will's efforts have also inspired peers to do something positive.
She said: "I'm really proud of him, it makes a big difference. When we drop the meals off, residents smile and ask what he has got. And friends and siblings, after seeing what he does, have wanted to do something positive, so it's inspiring and encouraging others.
"It has huge benefits - Will is not only learning about kindness and giving, he's cooking and developing his skills. If children want to do something kind to help others, it's worth thinking about what interests them, and then using that to give back in some way.
"Will is constantly cooking and taking over the kitchen, so this just seemed like a natural fit."
New supporters for the campaign
The Mayor and Mayoress of the Borough of Harrogate, Stuart and April Martin, said: "We are delighted to support this initiative, and if we all did one act of kindness each day or even a week, the world would be a nicer place, and the Harrogate district could start this trend."
The club's Community Development Manager, Iain Service, said: "Working in the local community, we often witness some incredible acts of kindness. I have personally noticed this when first starting my role within Harrogate Town AFC Community Foundation. Local people are willing to engage with players, coaches and staff, and are genuinely interested in our programmes and what impact we can have within the town.
We often see examples of kindness through our volunteers who give up their own time to help, assist and develop people's skills and confidence. A prime example that we see is through our Walking Football programme where participants assist new players, teaching them the rules and a friendly handshake.
"Harrogate Town AFC are fully supportive of the Salt of the Earth campaign. It doesn't cost anything to be kind, whether it is being generous with your time or making people smile."
Associate director Martin Whincup said: "Because Berwins is rooted in our local community, we're often privileged to see the many amazing acts and achievements which people in the Harrogate area undertake every day.
These often go unsung – the everyday heroes who go out of their way to help others are unlikely to garner recognition in the New Year's Honours List – but that doesn't mean that their actions do not make a fundamental difference to the everyday lives of the people they support.
Berwins is delighted to back the Harrogate Advertiser Salt of the Earth campaign as it seeks to spread the word around what makes our district such a special place to live and work.
Kindness can be infectious and we hope that, by shedding a light on those who do the extraordinary, it becomes a wave which spreads across our area."
Nominate somebody who is the Salt of the Earth in your community
We would love to invite you to nominate someone who is the Salt of the Earth in your community, to be featured in our new campaign. Is there an unsung hero who makes a real difference in your life, or a friend's or family member's? Get in touch today by emailing: [email protected]