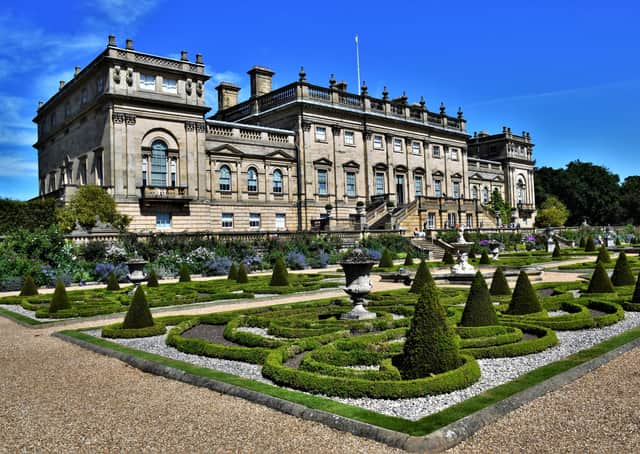 Harewood House and Terrace Garden by Duncan Snell
It was named large visitor attraction of the year and gained silver in the arts and culture section of the awards held online earlier this week by Welcome to Yorkshire.
Jane Marriott, Trust Director comments: "At such a difficult time, it is wonderful to be recognised by the panel of this year's White Rose Awards and to receive the accolades of Large Visitor Attraction of the Year and a Silver award for Arts & Culture.
"As a charity, Harewood's resources are more limited than ever in light of recent events, but our team's spirit and ambition has not changed, nor has our Member's and visitor's excitement for what we do been diminished.
"With the invaluable support of our Trustees, we continue to reinvent the country house and what it means to people in the 21st century, to ensure that Harewood will continue to be a place for everyone to enjoy and explore."
Last year was a landmark for Harewood which celebrated 30 years of contemporary art and launched the Harewood Biennial with its inaugural exhibition Useful/Beautiful: Why Craft Matters curated by Hugo Macdonald, its first Make It Harewood weekend with 5,000 craft workshop spaces over just 48 hours, and an award-winning Christmas show, A Night at the Mansion created by Davy & Kristin McGuire.
The White Rose awards were declared a huge boost to the entire team at Harewood, which hopes to reopen on December 3.
Jane added: "As an independent charity, Harewood is reliant upon this income to continue its important work inspiring creativity and enriching lives for its local Yorkshire communities and beyond.
"Like so many attractions, the loss of revenue this year has had a devastating impact upon the charity's finances."
The awards follow funding from the Government Cultural Recovery Fund, Arts Council England, National Lottery Heritage Fund, ArtFund and Historic England, and winning the 2020 Museums and Heritage Innovation award for last Christmas season.