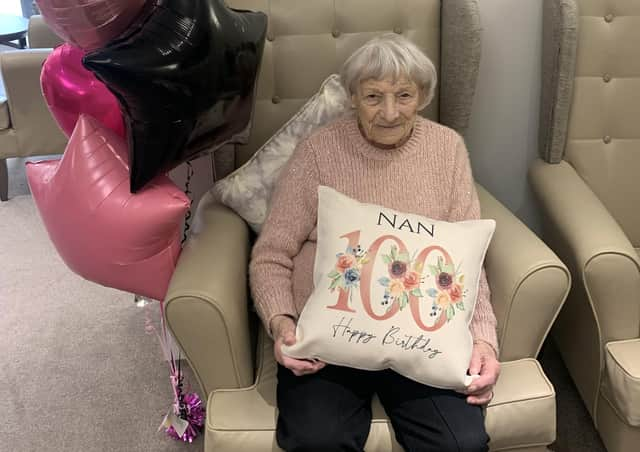 Staff at Windsor Court care home gave Gwendoline Ware a special birthday despite their original plans being cancelled due to the Covid-19 isolation.
A Windsor Court spokesman said: "Deliveries of flowers, balloons, presents and cards, including a special card from the Queen filled Gwen's room as she enjoyed Facetime calls with her family and friends, plus Mayor of Wetherby Coun Galan Moss, and the local fire brigade who sang happy birthday.
"Gwen's loved ones created a special video wishing her a happy birthday and featuring well wishes from many of Gwen's family, friends and neighbours.
"There was not a single dry eye in the house."
Gwen, who has lived at Windsor Court since March 2019, believes the secret to a long and happy life is to be happy, laugh and make the best of every situation.
She said: "I would like to thank the fantastic staff at Windsor Court for making my birthday so special even though I couldn't spend it with my friends and family like we had originally planned.
"The staff here treat me like family, I couldn't ask for anything more."
Born in 1920 and raised in Battersea, Gwen married Alfred Ware in 1942 and share three children, four grandchildren and six great grandchildren.
She has fond memories of her childhood, although she confesses she never really enjoyed school and therefore decided to leave education aged 14 to work in a hat factory in Chelsea.
Gwen met her husband Alfred Ware at a dance at Battersea town hall, however, at the time she was actually on a date with someone else.
Gwen recalled: "It is rather funny isn't it? I went with a gentleman called Harry and left with Alfred."
When the war started, Gwen's father asked her to leave her job as he was worried about her travelling safely.
It was then that Gwen relocated to Bournemouth and started working in a candle making factory, returning to hat manufacturing in later life.
Gwen remembers times being difficult throughout the war and how she and her husband would often make their own clothes.
She said: "Being able to make your own clothes was considered truly fortunate at that time, people were often jealous we could tailor."
During the war, Gwen recalls one Friday night a flying bomb came over her house during an air raid, she hid under the staircase with her husband and waited.
"The siren had been going off for a while, but nothing had happened, when the flying bomb eventually came over our house, I was peeling potatoes in the kitchen!'
Home Manager, Paula Mountjoy, said: "Gwen is an incredibly special lady, it is important to us when we have a birthday to make that resident feel super special and it was great to see how excited Gwen has been.
"It was our pleasure to organise everything for Gwen and we will ensure she celebrates with her loved ones as soon as she can."