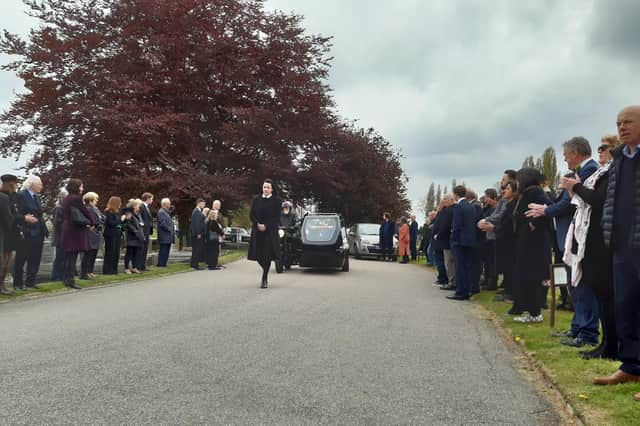 The funeral of Harrogate gallery owner Andrew Stewart included a motorbike procession.
The late Mr Stewart's family - widow Gillian and daughters Scarlett and India - pulled out all the stops to create the sort of celebration at Stonefall Chapel in Harrogate that this larger-than-life and much-respected figure would surely have loved.
Curator, art restorer and owner of Harrogate's 108 Fine Art gallery, Mr Stewart was also a keen glider pilot, cyclist, motorcyclist, and musician and the day's proceedings yesterday, Thursday fully reflected this with the dignity required of the occasion but, also, a dash of flair and flamboyance in keeping with the man.
The late Harrogate gallery owner Andrew Stewart was carried to Stonefall Chapel in a brilliantly-painted coffin.
The coffin, which arrived by motorbike, had been beautifully painted with a pastoral scene by Scarlett and India.
Later, a flypast above could be heard during the moving ceremony inside the packed chapel, organised by Gillian.
A wonderfully judged, moving and witty eulogy by friend Dan Simpson was followed by a magnificent solo musical rendition on vocals and acoustic guitar of Robert Burns' A Red, Red Rose by Mr Stewart's nephew Calum.
Recorded musical selections during the celebration of Andrew Stewart's life included Labi Siffre's (Something Inside) So Strong, Aretha Franklin's I Say a Little Prayer and The Beatles' All You Need Is Love.
A well-attended and thoroughly lively wake then took place afterwards at Hales Bar in Harrogate.
Andrew Stewart, born Thursday, March 10, 1960, died Wednesday, April 13, 2022.