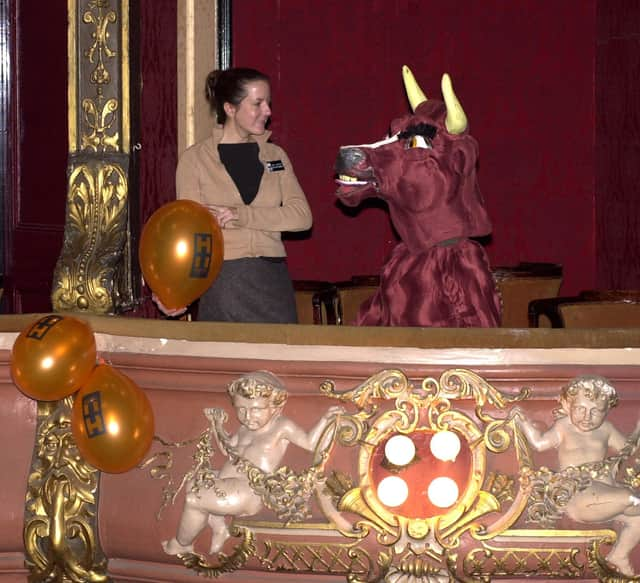 Box Office manager Amy Locker (left) with Buttercup the cow, alias Eric Hildrew, at Harrogate Theatre.
Harrogate Theatre has seen countless different productions over the years.
The theatre, which was built in 1900, has recently played host to Michael McIntyre, The Red Hot Chilli Pipers, and Zog and the Flying Doctors.
Shows to look forward to in the next few weeks include The Tiger Who Came to tea, Counterfeit Stones, North Yorkshire School's Platinum Jubilee Concert, and Kinky Boots. Here we take a look back at some of the previous productions that have entertained audiences in Harrogate. They include Godspell, Guys and Dolls, and Little Shop of Horrors.
Harrogate Theatre's production of Guy's and Dolls.
Send any old pictures for a future retro page to [email protected] Please include your name and details about the pictures.
Theatre Group Cabinets of Curiosity perform their latest production of Five Clever Courtesans at Harrogate Theatre Studio. From left are cast members Emma Kate Baxter, Suni La, Renata Byrne and Romilly Turner.
Harrogate Dramatic Sciety's production of The Heiress at Harrogate Theatre. Back left to right: Alan Harwood, Jenny Humphreys, Catherine Noland, Vicki Day, Gill McVey, Lawrence Conyers. Front left to right: Judith Simpson, Audrey Shaw.
Kamamica's production of "Godspell" at Harrogate Theatre.
Harrogate Youth Theatre meet War Veteran Evacuee Jeffrey Shedlow, (centre right) as research for their parts in their new production of 2000 Aluminium Saucepans at Harrogate Theatre. Jeffrey is pictured with cast member Mandy Lloyd.
Actor Michael Garside from Theatre Company 6:12, performs his one man show Frankenstein at Harrogate Theatre.
Cast of the St Andrews Players production of Little Shop of Horrors at Harrogate Theatre.