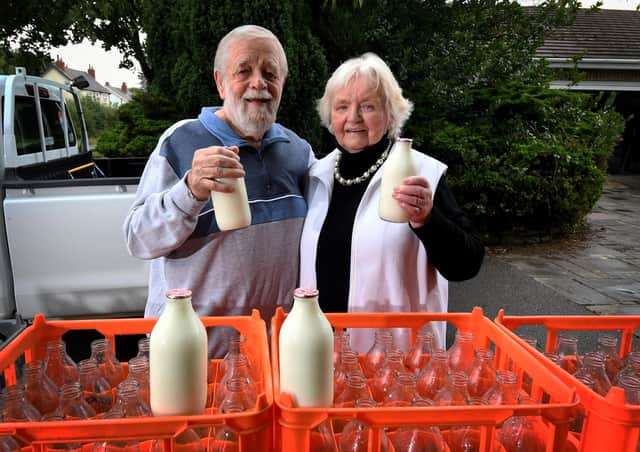 Maureen and Derek Clancy having been doing the Milk Round for 50 years pictured at there home at Sherburn in Elmet....25th August 2020..Picture by Simon Hulme
Derek and Maureen Clancy, both in their eighties, have had a milk round in Sherburn-in-Elmet for the last 50 years but they have no intention of retiring just yet.
Every day, regardless of the weather, they have got up at 2am to deliver milk to the village and beyond.
Taking it on for five decades wasn't in their thought process and the whole venture came about by chance and a random conversation with a sales rep at the shop Maureen was running at Elland Road at the time where the late Jack Charlton and his wife Pat were regular customers.
The rep told her his next call was a shop at Ilkley where the proprietor had sold his business and was starting a milk round with Leeds Coop Dairy.
Maureen took interest as husband Derek was at the time looking to become self-employed.
She rang the dairy and there was only one round available with them at Sherburn-in-Elmet.
Two weeks later the couple had sold their car, bought a pick up and started the round - but it wasn't always so straight forward.
After the first day Derek, now 85, realised what he had taken on and from then Maureen would join him on the milk round before catching a train back to Leeds and a bus to Elland Road to open the shop.
After ten years she sold the shop and they bought some land in Whinmoor and built a house which now has an onsite cold room where they run the business from. Their son Martyn has since joined the firm which meant they could take their first holidays.
Maureen, 83, said: "Before that we never had holidays but had weekends.
"If anything was going off we would fill in the Friday and come back Sunday. If we were tired we would go back to bed but the rest of the day is your own. We are up early and it is just a way of life, you get used to it."
However, delivering milk at all times of night can lead to getting caught up in crime-fighting too.
"I could write a best-seller," recalls Maureen.
"We have arrested a few burglars. One morning an old lady was at home and heard a noise and came downstairs to find a burglar escaping through the front room window. She phoned us as she knew we would be up.
"I rang the police, Derek was loading up and I said drive round to see if you can see these lads. He drove all the way around Sherburn and low and behold, saw two lads walking up the road.
"He asked them if they needed a lift and they jumped in. He drove them to her house and said if you have burgled her I will make a civil arrest, if not I will drop you off at the A1. The police got the two lads, they had knives and all sorts and they got arrested.
"Another morning we went to a street where the cars park down the left hand side but there was a car on the right and we couldn't get down the street. We drove into the village and police asked if we had seen a silver Escort, which we had. We took them to the street and drove away. When we went back past they had the car and gave us a thumbs up."
The crime-fighting days may be over but they have no intention of stopping and celebrated the milestone last month with a trip to the Lake District.
They were back in time for the round on Monday.
Maureen added: "We would like to thank everyone in Sherburn for their support and those that stuck with us. I don't want to live and go anywhere else."