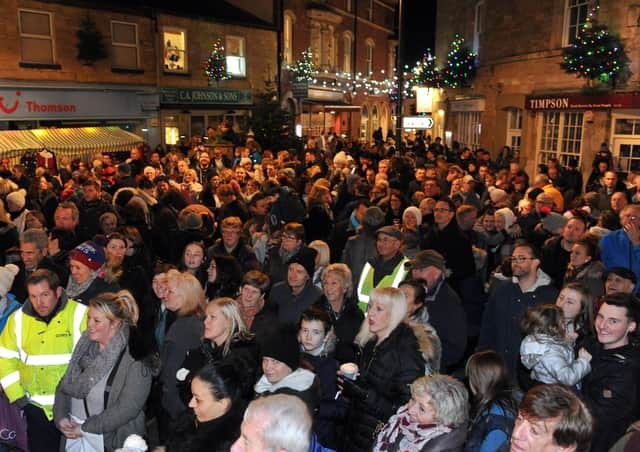 Picture Tony Johnson.
Fears were that the appearance of the popular festive trees and lights in the town centre, would not be possible this year because of a lack of funding.
But local Ward Councillors, working with Wetherby Business Association, have funded installation of mini trees with lights, which will start being put up from November 23.
Councillor Alan Lamb (Conservative, Wetherby Ward), said: "2020 has been a disastrous year for many, many businesses across the ward, and then when combined with the prospect of having no lights in the town in the run-up to Christmas, we had to find a way to make something special happen.
"I'm delighted that the Ward Members can fund the mini Christmas trees to bring some of the festive sparkle into the town this December."
He added: "I'd like to thank the army of volunteers who make this such a success each year and I fully understand why some have had to be careful over Covid – there is no way this work can be completed in a socially-distanced manner.
"I'm just pleased that again as a community, we can come together and will all emerge stronger as a result."
Coun Norma Harrington (Conservative, Wetherby Ward), said: "Christmas is special. Christmas in Wetherby is extra special and I always feel enormous pride when I see our streets lit up and bustling with shoppers visiting our local businesses.
"There is no denying that 2020 will be unlike any other we have known, but if we can just do some of the little things, like the Christmas lights, perhaps we can preserve some of how it should be."
The annual Wetherby Christmas lights switch on and carol service usually attracts thousands to the town centre but this year will be different because of Coronavirus regulations.
Coun Linda Richards (Conservative, Wetherby Ward), said: "Christmas will be very different to what we're used to, and while following the Government guidance, I would urge everyone in our community to support our local businesses when completing their gift shopping.
"Yes, 2020 has been torrid for local businesses and by shopping locally, we can help ensure some of the names on our High Street are there in 2021 too."
She added: "Sometimes it's all about the little things.
"There was no way that we as Ward Members wanted to have a town without lights this year.
"We are extremely fortunate to have an army of volunteers across the town and in the surrounding villages including Bramham and Boston Spa to help make this happen."