Care home staff do Bush tucker trials
Staff from a Wetherby care home have raised over £1000 after taking on infamous bush tucker trials with Emmerdale's Charity Dingle.
Thursday, 24th June 2021, 2:35 pm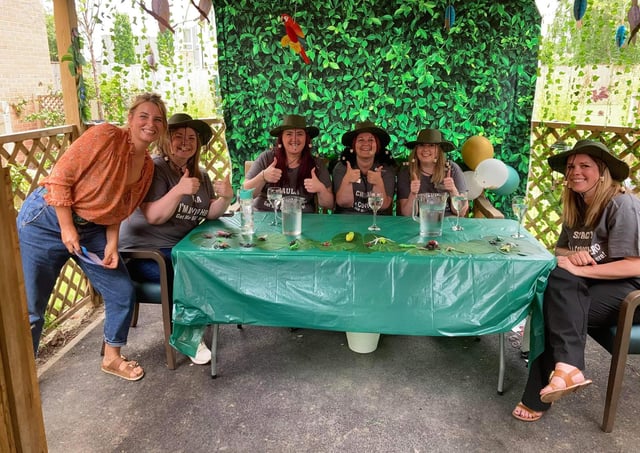 The Windsor Court caring team have undertaken some stomach churning challenges inspired by the hit ITV programme - I'm a Celebrity, Get Me Out of Here! - to entertain their residents and raise cash for their activity fund.
The dedicated contestants - comprised of Home Manager, Paula Mountjoy, Care Manager, Sophie Summerscales, Deputy Manager, Charlie Parker, Regional Director, Lisa Harding and Managing Director, Stacey Linn - tucked into a gruesome ten-course meal including crickets, worms, locusts, cow tongue, and fish eye.
Special guest star, Emma Atkins, also known as Charity Dingle in ITV soap opera Emmerdale, hosted the contest, interacting with the residents throughout the trial and encouraging the contestants during each dish.
Lifestyle Manager, Kirsty Watson, who was the driving force for the challenges, said: "We are always encouraged to push the boat out for activities and I was really able to run wild with our trials. It was my pleasure to organise, and we had a blast!
"A huge thank you to Emma for coming down to be our host. She was brilliant and got everyone involved. Our residents were over the moon to meet one of their favourite characters from Emmerdale and receive autographs."
And 95-year-old resident and fan of the hit ITV show, Ann Forester, said: "It was so much fun watching as the team took on the different dishes. I certainly am glad it wasn't me having to eat those things.
"It was hilarious to watch the faces they were pulling and there was a huge round of applause as we crowned our winner! Overall, a brilliant day."
After a nail-biting ten courses, Deputy Manager Charlie Parker, was crowned Queen of the Care Home after eating a fish eye in an impressive three seconds.
She said: "I am so glad we were able to raise so much money for our residents fund.
"Being 'Queen of the Care Home' was brilliant. All of the residents cheered for me but I think all of our contestants deserved a crown because the trial was really difficult."
She added: "Emma was also marvellous on the day as our host, she really helped us to get through each dish."
Home Manager, and contestant for the day, Paula Mountjoy, said: "Our 'I'm A Covid Hero, Get Me Out of Here' afternoon was such a huge success.
"I don't think there is a better feeling than seeing our residents laughing and having fun, even if it is at our expense.
"Kirsty outdid herself with this one and we raised lots of extra money for our residents fund which will go towards funding more activities and day trips out, so far we have had lots of suggestions on our 'wish list' and we can't wait to make our residents wishes come true."