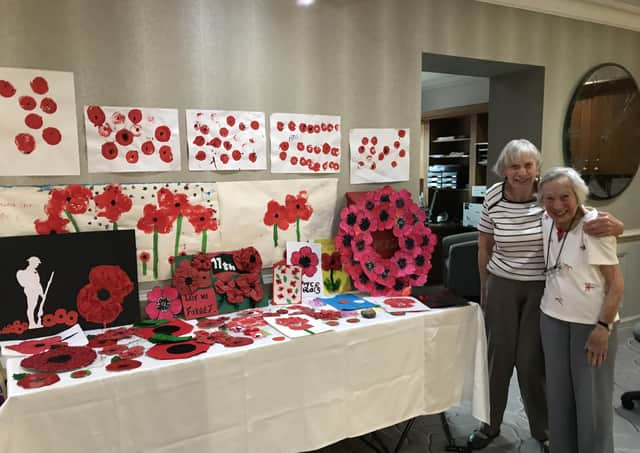 The team at Anchor's The Manor House Knaresborough care home in Hambleton Grove reached out via Facebook to local schools for their students to paint poppies for their residents for Armistice Day on Wednesday November 11.
They were overwhelmed with the kind and generous response, with dozens of painted poppies and poppy-based pieces of art being mailed to the home in just a few days.
All the artwork that has been generously donated by local children has taken pride of place in a Remembrance Day display at The Manor House Knaresborough. These pieces have gone alongside poppies painted by the residents to display the generations coming together to honour those who served.
The team and the residents at The Manor House Knaresborough were deeply touched by the kindness and thoughtfulness of the children who had taken the time to send them artwork.
Resident Barbara Manning, 80, said: "It was so lovely to see all the beautiful poppies painted by the kids, it was really moving that they made those for us! We've always done something nice for Remembrance Day and it means a lot to me to make something special to remember those who gave their lives for us.
"Remembrance Day always makes me think of my dad, so getting such lovely donations from children was really special to me. It was a really kind gesture and I hope they know how much it meant to all of us."
Linzi McNeil, Deputy Manager of The Manor House Knaresborough, said: "I just want to say a huge thank you to all the children who so kindly sent us their poppies, we honestly didn't expect such a huge response!
"Remembrance Day is an important time for our residents and we always try and do something to remember the sacrifices of those who served their country. Although this year we cannot go out to local Remembrance Day events, we're excited that we can combine the artwork by our residents and those by the children together to symbolise coming together."