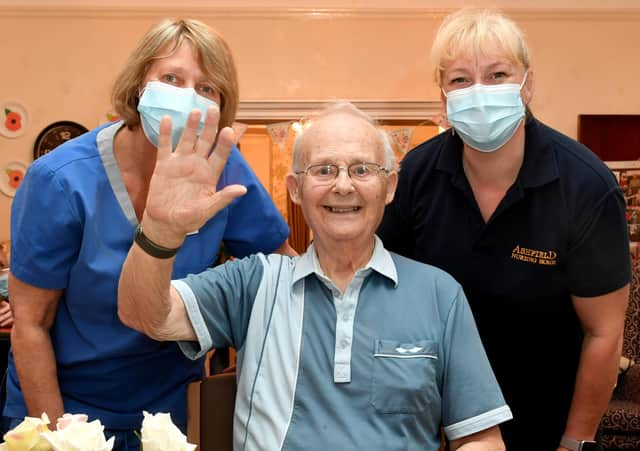 Karen Dean, Ashfield Care Home manager (right) poses with resident Bill as he enjoys his afternoon tea at Ashfield Care Home, delivered by Amber Cars from the Cottage Coffee Shop in Wetherby, Yorkshire, UK Picture date: Thursday November 5, 2020. Photo credit should read: Anthony Devlin
Leeds-based taxi and private hire vehicle operator, Amber Cars, has teamed up with Wetherby's The Cottage Coffee Shop and Gift Shop for a delicious drop-off of afternoon tea hampers to nearby Ashfield Care Home.
Residents and hardworking staff were delighted with the fresh snacks and cakes as a treat before the start of this second lockdown and during a particularly challenging few months for elderly residents and staff, who have been working round the clock.
Chris Neary, Amber Cars Regional Director, said: "Amber Cars is always delighted to support local businesses like The Cottage Coffee Shop and Gift Shop.
"Many staff have sacrificed time with their own families and have put their own health at risk to continue to look after the residents here, who they clearly have a remarkable bond with.
"Although likely a familiar sight with local residents, Amber Cars recently bolstered operations in Wetherby, so it is great to really get to know those in the local community and to hear about what matters to them and to show that we care and are proud of the community."
Karen Dean, Registered Manager at Ashfield Nursing & Residential Home said: "This was a lovely gesture by Amber Cars and The Cottage Coffee Shop, we really appreciate it.
"Many of our residents have had restricted visits from their relatives over these last few months and our staff have worked tirelessly to look after them, finding innovative ways to stimulate them and keep their spirits up.
"Like NHS staff, our team has really gone above and beyond throughout this pandemic, and it is lovely for them to be recognised with treats like this."
Amber was also one of the first transport companies to introduce additional health and hygiene measures this year to make journeys as safe as possible for all passengers and driver-partners. The measures, designed to mitigate the spread of coronavirus, include specialist cleaning regimes, in-vehicle protective screens, the wearing of face coverings and passengers sitting in the rear of the vehicle.