Army officer leads her team to victory in Ironman challenge
A Harrogate Army officer has completed a gruelling physical challenge to raise funds for various charities, despite undergoing surgery just a year ago.
Tuesday, 13th April 2021, 6:00 am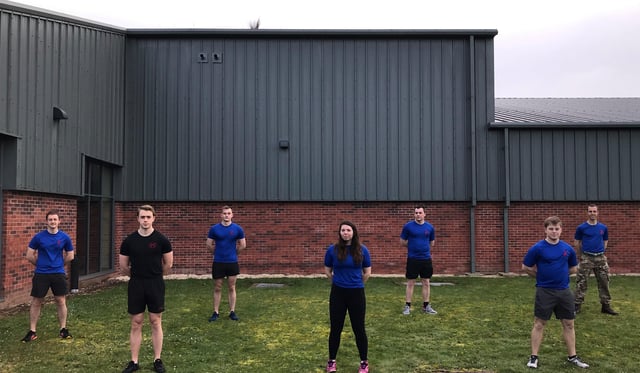 Lt. Jes Oakley led a team of around 20 members from the 255 Bahrain Signal Squadron in a three-day challenge dubbed the Bahrain Ironman.
The team endured a 26.2-mile row on day one, a 100-mile cycle on day two, and then a 26.2-mile march on day three.
Jes set herself the challenge as part of her recovery from knee surgery after rupturing a ligament, and decided to fundraise for Macmillan Cancer Support in the process.
She said: "I'm so pleased and very proud how well the lads did. We were lucky with the weather for the row and cycle being so bright and sunny but it also made it pretty tough going and everyone was feeling it by the march on the last day.
"Each event in isolation was a big ask, but it took real grit and determination for those individuals completing all 3 days and they all did amazingly well. I'm thrilled how much money we've raised so far with some donations still coming in - the support we've received has been fantastic.
"I spoke to the soldiers and discussed the charities we'd like to support by doing the event and we decided Macmillan was a worthy cause. Cancer sadly affects so many families and Macmillan is close to my heart because I lost my grandad to cancer.
"We called it 'Iron Man' because we're pretty much doing 'Iron Man' distances, but the row was a longer distance than what the swim would be!"
Adele Burrough, fundraising manager for Macmillan Cancer in Yorkshire, said, "Jes and her colleagues are going through extreme lengths to make sure Macmillan can still be there for people living with cancer – and we are absolutely thrilled with their support.We want people to know we are still there for them despite the current pandemic, and our wonderful supporters like Jes and her soldiers make sure we can keep up that vital work for those affected by cancer."
To donate, visit https://bit.ly/3sJuxUS.